The Easy Guide To Selecting The Best Blog Post Topics For Your Business
I'm often asked about search engine optimisation for business websites, and although I'm not an SEO expert I'll always respond with 'blogging has given me great results so far, it's what I recommend'. As part of a bigger marketing strategy, blogging works very well in terms of SEO whilst improving your brand credibility and reputation.
And that position hasn't changed six years later.
Regardless of how often you choose to publish blogs on your website (and I'd recommend at least monthly), you need to create a content calendar. You don't need anything complicated to achieve this, a simple spreadsheet will do. You'll need to include:
dates – writing, editing and publishing if you're creating your own blogs
topics
other marketing campaigns that are going on at the same time
It is worth planning your blogs alongside your other marketing campaigns. There will be a lot of cross-over with your social media marketing, and seasonal promotions – so it makes sense to have a clear picture of what you're going to be doing, and when.
One of the biggest gripes I hear from business owners struggling to get started with blogs is not knowing what to write about.
So here are my thoughts on topics that your target audience will find useful when you start blogging for your business.
What questions are you asked by clients and prospective customers?
Write these down and turn the answers into blogs – if the answers are short and sweet, see if you can combine a few around the same topic.
This is a great way to get started as you know this is the kind of content your target audience are interested in, and you have the information at your disposal for the next time you're asked.
If you don't get asked any questions directly, you can discover what your target audience are seeking information about through social media. Social media users will often ask questions online knowing that there will be people there who can answer the question. So, scope out your competition, see the questions they're responding to and the blogs and articles your target audience are sharing already.
Creating 'how to' guides for your products or services.
Before you read this blog, I suspect you've typed 'how do I start a blog for my business' into Google once or twice, right?
It's something we all do as business owners trying to keep costs down by learning how to do things for ourselves.
Your customers are no different. 
It doesn't matter what you sell or produce, there will be a 'how to' guide or two you can write around it.
Starting off simply is a good approach, but you can always revisit the same topic later on with a more advanced version. Take knitting, as an example. If you sell wool you might create a 'How to get started with knitting' blog, followed a few months later with 'Next steps in knitting'.
Take a few minutes to go through your products and services and have a think about how your customers or clients might get started with them.
Show how your business has surpassed a customer's needs.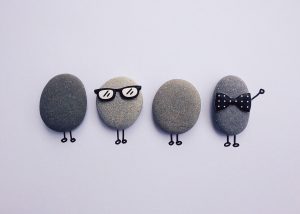 Case studies are a great way of going into detail on how your key service has improved things for a customer, and by using a blog you can really delve into the details.
Although the purpose of a blog is to be informative rather than 'salesy', sometimes a potential client that has been lurking on your mailing list for a while needs a little push to take up your services. A detailed step by step case study of what your client's problem was, how you approached the issue, and how you used your products or services to meet their needs (i.e. by improving website traffic through an effective email marketing campaign) can be a great way of achieving that.
It's important to get your client's permission to write them up as a case study before you begin. Not only does this prevent potential embarrassment if they could be identified through the information given, it also gives you the opportunity of getting quotes and a testimonial you can use throughout the blog to reinforce what you're saying and act as social proof.
Take a step away from what you do and get creative with your blog topics.
Sometimes a blog is a great way of introducing your audience to the person behind the business.
'A day in the life of' or even '10 things I bet you didn't know about me' can be fun, entertaining and effective in building up your credibility as a business owner.
We human beings are a curious breed, and we like to know who we're doing business with.
It helps build a rapport and is an important step in your customer's journey from finding you, to choosing you. It's not always appropriate to put this kind of content on your main website though, so your blog is the ideal place to think out of the box and show the 'real you'.
You can find out more about me in my 'Revealing the real Sarah Banks' blog here.
These are just a few ideas to get you started with blogging for your business. As you get going, you'll find more ideas will come naturally and you'll get inspiration from the blogs and articles you discover on social media.
If you need help getting started or organising your current blog then click here to find out how we can help you.
Got a blogging questions get in touch with us here and we'll be delighted to help.