My transition to Online Business Consultant
Many of you know me as a virtual assistant. It is, after all, how I've been describing myself since I started Banks' Business Solutions back in 2014. Since that time I've developed a strong reputation as a VA, gained the top spot in Google results for "virtual assistant Derby" and become accredited by VIPVA, so why am I now transitioning to calling myself 'online business consultant'?
I've realised that 'virtual assistant' just doesn't fit me anymore
The term "virtual assistant" was relatively unknown when I started my business five years ago. A lot has changed since then and there are many more people working within the industry and providing services virtually.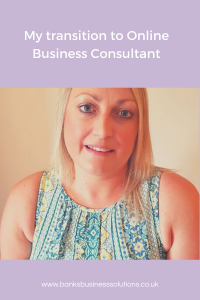 I've come to realise that although VA can mean anyone working virtually to deliver services, it's more often than not used to describe someone that provides administration services.
I began Banks' Business Solutions to provide admin services based on my prior experience and training as an office manager, but since then I've specialised in helping clients save time and energy by implementing online business processes, creating websites and email marketing lists and providing consultancy services on how technology can benefit a business.
Online business consultant accurately describes how I save time by simplifying technology
I still work virtually to assist clients with their online business tasks, and I do provide more traditional type virtual assistant services with the help of my associates, but I believe that I play more of a strategic role in my client's businesses now rather than simply taking on tasks they don't want to do or are unable to.
Using the term 'online business consultant' enables me to promote my personal change away from traditional admin services to my new offerings of online business support, training, GDPR and WordPress websites. Let's take a look at what I now offer in a little more detail.
Online business support
If you need help with an aspect of your business being online, you're likely to find that one of my online business support services will benefit you. This is where I offer advice and support on the right kind of technology and software to be using, how to set-up and implement new digital processes like a sales funnel or mailing list, and I can help you troubleshoot any issues you may be having.
Digital training and support
Getting to know a new app or piece of software can be time-consuming, difficult and it simply gets in the way of the numerous other business tasks you need to be getting on with. I offer training via zoom video call to clients needing some tuition on how to get started and make the most of new technology.
GDPR
I've been offering GDPR audits and preparation services for around 18 months now, and although the law is now in place it's consistently being tweaked and updated. With PECR and changes to the UK's relationship with the EU and the effect that may have on how we use and store our data, I will be continuing to offer GDPR support.
WordPress Websites
I think learning how to build my own website with WordPress and offering that as a service to my clients paved the way to my becoming an online business consultant. I love creating WordPress websites and it's a service I will continue to provide, along with WordPress maintenance services and support.
I'm still the same Sarah that you've been networking with, talking to online and hanging out with social media, and it's possible you won't see much of a change directly as I've been talking about these kinds of services for a while now!
But for me, the term 'online business consultant' sums up what I do far more effectively and easily than using VA and having to explain that I offer so much more than admin, my business is about simplifying technology to save you time, and that's what I tend to be doing more of in the future!