Why I'm Proud to be Accredited by VIPVA
I am so proud to be a part of the VA industry. When I started out as a virtual assistant in 2014, VAs and what we do weren't very well known and there was very little support or information available.
I managed to find one UK based organisation at the time; the rest were in the United States. Sadly, that group isn't around anymore and although I tried the USA groups, I couldn't really find the right fit for me.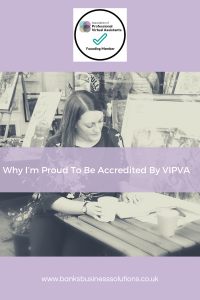 Then in 2016, I found it! VIPVA – my tribe!
Although I don't offer traditional PA/VA skills and am now transitioning to call myself an Online Business consultant there is something special about my VA tribe at VIPVA.
I immediately found that they had the same values as me and that was important as I was looking for support and guidance getting established as a virtual assistant. I have met some amazing people through being a member and am proud to be part of such an amazing group.
One thing that has stuck out to me about the VA industry in my time spent within it, is the lack of regulation.
I've had clients come to me who have had really bad experiences with VAs and I expect that will continue for a few years yet. One of the problems, I think, is that starting as a virtual assistant is seen as a "get rich quick" kind of scheme. I regularly see articles and social media posts suggesting that becoming a VA is an easy option for someone who wants a bit of extra money but there's a whole lot more involved to than having internet access and a website.
So, when VIPVA launched their accreditation I knew this was what I wanted to be part of. A programme that ensures VAs are safe to work with and have the knowledge and experience necessary to provide the services you pay them for.
Whilst the VIPVA accreditation isn't recognised on a national level yet, it is getting noticed by clients and for that, I'm so grateful I've made the investment in becoming accredited.
Accreditation means that a VA has to meet criteria around safe and legal process
Being a small business owner carries an element of risk. Whether that's a risk to you from scams and hoax clients or risk to clients themselves who have incurred damages from poor quality work and mistakes.
Do you want to put your business and reputation into the hands of a stranger who may not be insured, know how to protect your personal data or have the skills and expertise they say they do?
It's difficult to know for sure (and most freelancers and small business owners will happily share proof of insurance, data protection registration, etc if you ask for them). So, wouldn't it be easier if there was a form of accreditation that tells you instantly that you're dealing with a professional freelancer?
That's exactly what the VIPVA accreditation does.
By meeting standard criteria, my clients can be assured that when they work with me they are working with a VA who has robust processes and systems in place along with the required core business setup to be able to provide services virtually.
What is this core business setup?
It's essentially meeting these requirements:
ICO Registration as a Data Controller
GDPR Awareness
Secure Data Storage and Backup Plans
Appropriate PI/PL Insurance
Appropriate terms of business
Appropriate policies
Registration as a sole trader or LTD company with HMRC
Accreditation provides peace of mind when you're looking for a VA
It is important to me that my clients know that I have this accreditation in place. Alongside my testimonials, it gives them the peace of mind and satisfaction that I am an accredited member of VIPVA and am regularly participating in my own professional development to ensure that I offer the best possible service to all my clients.
Essentially, it helps me to prove to clients that I am growing my business in an authentic and ethical way, rather than jumping on a get rich quick scheme at their expense!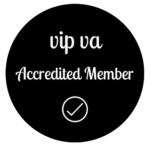 VIPVA are the only people in the industry offering this level of accreditation for VAs and freelancers so it's always best to be safe than sorry.
If you are looking for a Virtual Assistant to support you, make sure you look out for the accredited VA badge from VIPVA on their website or get in touch with VIPVA to find out more.