Mistakes When Outsourcing to a Virtual Assistant: What To Do When Something Goes Wrong
So many of my clients put off working with a Virtual Assistant or Online Business Manager far longer than they should because they're scared to entrust their business and reputation into the hands of another.
I get it.
Really.
I was nervous when I started outsourcing too, but since then I've grown my business and achieved far more than I could have done struggling on my own.
But the question stands, doesn't it?
"What happens if something goes wrong when working with an online business consultant or VA?"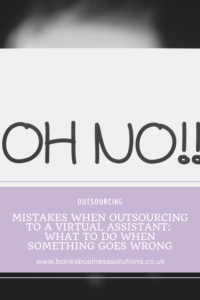 In this blog, I want to talk through some of the potential scenarios for things going wrong, why that might have happened and how to recover from these mistakes.
The work the VA does for you isn't what you expected
This is probably the most common problem I've come across when talking to clients. Things like:
"I thought they would manage my social media, but all they did was share three posts a week"
"they were meant to manage my email inbox but haven't responded to any emails"
And there are a few issues that could be to blame for those problems.
How specific were you in your brief and they in their proposal/brief?
Social media and email management can look like very different things to different people. If you wanted your social media VA to interact, follow and engage with your audience, was that discussed at all? Similarly, inbox management can be about decluttering emails and filtering emails into relevant folders. Responding to emails can fall under "customer service" and isn't always included in an email management package.
This is why having a contract in place with your virtual assistant is vital. Make sure you're happy with the scope of work and that you both know what's expected of you as you work together.
In my experience, most of the time when work hasn't been as expected it's because of a poor brief, minimal/poor communication and sometimes, lack of experience. So do check that who you outsource to has the expertise you're looking for (you can check my guide on finding the right freelancer for your business here).
An Online Business Manager made a mistake that could damage your reputation
We all make mistakes and I freely hold my hands up and admit that I've done just this.
Last year I scheduled lots of posts for a campaign and had used the word 'nuture' not 'nurture' a simple typo that undermined the message we were trying to get across. Yet, we see what we expect to see when proofreading and so I didn't spot the mistake before hitting publish (which is why a second pair of eyes to check things over is so useful!)
The client contacted me when they spotted this on the live campaign and I put it right straight away, but it was difficult to know how many people had already seen that mistake.
That was a simple error to fix and thankfully my client was understanding, so that would be my advice to you. Be understanding and figure out what went wrong.
If it was a simple typo type scenario then work together to fix it and maybe have a laugh about it a few weeks down the line. Mistakes happen but they can be learned from and damage to your reputation can be managed by correcting the mistake and releasing a statement if the situation calls for it.
Your customers are human too, after all.
The work wasn't done on time and a deadline was missed
This is one of those mistakes that can be costly in more ways than one and again, is where a watertight contract is essential but also ensuring that the VA or Online Business Manager is insured.
Making sure that it's clear what the deadlines are (and ensuring you leave some leeway just in case) is important. If you're relying on a VA to take care of your bookkeeping but don't tell them your accountant needs it by a certain date for your VAT return may mean it doesn't get done on time (although a good VA will always ask about important dates and deadlines in advance).
Hopefully, you'll never have to make a financial case for damages against someone you outsource to but only hiring freelancers who are insured is a wise precaution. That's why I'm proud to be accredited with the Association for Professional Virtual Assistants, and I highly recommend you search there for a VA when you're looking to outsource. It's worth the added peace of mind!
The work didn't happen at all
Unfortunately, there are some scams around in the virtual assistant industry just like any other.
There may be genuine occasions where the work cannot be completed. I had a case where a client asked me to work with them on their social media strategy, however, they wanted me to use copyright protected images. I refused to do this as it is against the law and I didn't want myself or my client to be sued for copyright.
Unfortunately, this led to some conflict with the client and so I refunded them as I could not provide the service they wanted. Remember that you and the people you hire to do work for you need to work within the law, and it's easy to get caught out when you don't!
Again, this kind of situation highlights the need for a contract with the freelancers you outsource to.
If a VA ghosted you and you lose money, having that contract in place enables you to pursue a claim for money back through your bank as the service wasn't completed, or to pursue other forms of legal action.
I hope this blog has helped you gain some perspective on the difficulties that can occur when outsourcing to an Online Business Manager like myself, or to a virtual assistant. You'll see that in most cases good communication, legal contracts and accreditation removes the potential for many of these mistakes to happen and that by working with your VA, you can enjoy a positive experience that takes your business to the next level.