How to find the right freelancer for your business
As you're probably aware, I'm a huge advocate of outsourcing certain aspects of your business to others who are more qualified, competent, and capable of doing the tasks you're struggling to do. Bookkeeping is a commonly outsourced task, but it could be anything from marketing to SEO, business planning to admin.
Many of us put off outsourcing because we're worried that making the wrong decision could prove costly for our business. How do you know who will be the right fit for you? How do you know they're capable of doing the tasks you want to outsource?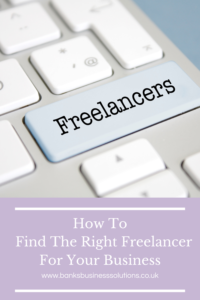 In this blog, I want to talk through how to go about selecting and vetting a good freelancer to outsource to, along with some of the red flags to look out for. Peace of mind is essential when trusting your business tasks to others, so I hope you'll find this useful in achieving that the next time you outsource.
Create some selection criteria for your preferred freelancer to meet
Creating a list of tasks you want to outsource is a good idea but don't think of it as a job description. Instead, consider what the tasks mean for your business. Are they marketing and lead generation themed or accounts and admin? Which business goal do those tasks meet? Are you wanting someone to help with finding new clients or streamlining your business processes to improve customer service?
Being able to answer those questions will help you figure out the best freelancer for your business right now. Remember that you're not hiring an employee when you outsource to a freelancer in any way.
You're inviting a trusted professional to join your team and help strengthen your business by taking on the tasks you no longer have time for or lack the skills to perform.
Rather than dictating what and how a freelancer should do things, outline the tasks and goals you need help with and invite their expertise and skills in achieving them. They may have a different way of doing things that could really benefit your business, so be open-minded!
Also, consider who your freelancer prefers to work with. Many will niche down and focus on a particular industry or sector, for example, this can bring added knowledge to your business doorstep!
So, carefully consider what you want them to do but also what they can offer before you start the search for your freelancer.
Use industry-approved directories
Post on social media asking for recommendations for a Virtual Assistant and you'll get a ton of replies from those who are excellent and those who are less so. Please be careful who you reply to.
I would always recommend asking people you know and trust for their recommendations along with checking vetted directories like the Find Your VA directory from the Association of Professional Virtual Assistants. Each VA is carefully vetted and accredited before making it anywhere near the directory, so you know you can trust them!
Check reviews and testimonials to get a feel for some freelancers you think will be a good fit for you. Have they been written by business owners that sound like you or had similar problems as you when hiring that freelancer?
Do have a good chat with the freelancer before you get started
Often called the "discovery call" (which can be by Zoom, or a slack conversation or however you prefer to do things!), this is about you and the freelancer getting to know each other, what you do and how they can help you to see if you are a good fit.
Remember that the freelancer is interviewing you here just as much as you are interviewing them!
This isn't a one-sided conversation. The freelancer should assess that you're a good fit for them just as much as you are trying to determine if they're a good fit for you. They know who they work with best and how they work might not be right for you, or vice versa; so, settle down with a cup of tea and have a friendly chat to see if there's scope to move forward into a working collaboration.
Watch out for potential red flags
Not wanting to communicate is a big warning sign. Some people don't enjoy phone calls and prefer written communication, and that's ok. I've found that even the most introverted freelancers I've outsourced to will talk via Zoom or meet for coffee when it's needed, they just prefer email the rest of the time!
Anyone that's straight-up refusing to hop on a call or keeps making excuses not to (especially at the last minute) is what I'm talking about here. If they're doing that before you hire them, are they going to be the same when you've trusted important business tasks to them?
A lack of testimonials can be telling. Not everyone has a website full of glowing testimonials to share and the reason isn't always because they're bad at what they do. Some people find it difficult to ask for feedback, many clients forget to provide written feedback and some amazing freelancers are just getting started.
If they are low on testimonials/reviews, ask them why. A reliable freelancer will point you toward a happy client who will put your mind at ease (do check their website, etc to ensure it's genuine).
Rely on your gut instinct here, if something feels off then it probably is.
Hiring a freelancer doesn't have to be difficult, but it takes some careful planning and consideration from your part to get right. Think about who you want to join "your tribe" and who you'd be happy to spend time with, I find gut instinct will often let you know when you've found the right freelancer.