Is It Worth Paying For Lead Generation For Your Small Business?
Finding new clients for your small business can be difficult. With so many supposed best approaches for lead generation from cold emailing/phone calls, lead magnets, and inbound marketing through to networking, printed advertising, and promotional campaigns – it can feel overwhelming and intimidating to get started.
Then an email lands in your inbox. It's promising you leads for your business delivered to your inbox every day! That can't be true right? Then you find a message from a new connection on LinkedIn promising the same thing.
Chances are, you're getting several of these emails a day in your email inbox and you're probably finding a high proportion of new social media contacts are offering these services when you accept their request. It's annoying but sometimes you do find yourself thinking "can these lead generation companies deliver what they promise?"
If something sounds too good to be true…
I always say trust your gut when it comes to business decisions, so if something sounds too good to be true, it usually is!
Considering the hard work involved with lead generation and the low rates these lead generation companies say they will deliver results for – do the two add up for you? I know there's an argument that many of these companies are based overseas and what we think of as low sums are high for them but if they are based overseas, how are they able to generate leads for us here in the UK?
How will they get those leads is the best question to be asking yourself.
Usually, it's a case of buying the details of people from online lists or using technology to scour websites for any personal details that can be found. They'll then send cold emails offering your services to these individuals and when someone shows interest, pass their details on to you.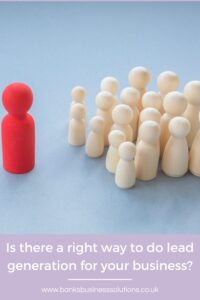 The problem here is that it's a 'cold lead' rather than a hot one – that means they are interested in your service or business in principle but aren't keen on working with you specifically. They still need convincing that your service is right for them and persuasion to buy from you. i.e., there's still a lot of work for you to do to convert those leads into paying clients.
What about getting warm leads through services like Bark?
A warm lead is someone who is interested in working with you and often comes through word-of-mouth referrals or direct contact with you on your website or social media.
Bark is a website that promises to act as a middleman where people can find a professional, they're looking for, such as a website designer, enter their requirements and budget and Bark supplies them with quotes from professionals that meet their needs.
You, as a professional, pay a small fee for each introduction and you're given the email address and phone number of these potential customers to reach out to. While the leads are slightly 'warmer' than with the cold emailing lead generation agencies, you still have a lot of work to do to turn those leads into paying clients and you're in direct competition with other professionals using Bark and websites like them.
If you look at reviews for Bark you will find some businesses are happy with the leads and customers, they 'won' through the platform but there are quite a few bad reviews talking about fake leads, personal details for people who had never signed up for the website and other issues.
Is lead generation like this GDPR compliant?
And that moves us on to the next question we should be asking ourselves – is cold emailing/using personal details to contact potential leads GDPR compliant?
In the case of Bark and websites like it, if people are genuinely entering their details knowing they will be contacted by businesses offering what they need, then yes, this in itself is GDPR compliant. However, the reviews indicating fake leads and sign-ups are worrying to read.
Cold emailing and phone calls are GDPR compliant so long as there is a belief your business will benefit from what they have to offer and there is a logical connection between your business and theirs – i.e., it's a service you could actually use. If you are a B2C business, however, you cannot directly contact consumers in this way. So, if you are a holistic therapist, life coach, etc you will not be able to use lead generation like this in your business.
While these approaches are legal and GDPR compliant for the most part, are they ethical? If you feel annoyed and irritated by the amount of emails you're getting every day from lead generation agencies promising you 50 leads a day, does it sit comfortably with you to pay them to do the same to your potential customers? How will they get those leads – do you know for sure?
Is telemarketing a good approach to take?
There are ethical companies and business owners out there who will do telemarketing and cold email outreach to potential leads in a friendly, compliant and ethical manner. By offering a more personal approach, finding the right people to talk to and discovering what they really want or need and 'warming them up' to the idea that you are the best fit, these companies can get the results you're looking for.
If you are looking for help generating leads in your business, I suggest you do your research and take your time in finding an agency or freelancer that you feel comfortable with. They should be open and transparent about how they work, their GDPR compliance, how long it'll take and a reasonable expectation of the number of leads you will receive.
I hope you've found this blog helpful – have you used lead generation services before? I'd love to hear your experiences and whether you found them beneficial for your business.