How to Rebrand Your Business Without Losing Sales
There are many reasons why it might be time to rebrand your business. Whether it's a name change, new business model, different target audience or even changes to products/services, you might be concerned that rebranding your business could lose you sales from your current customer base.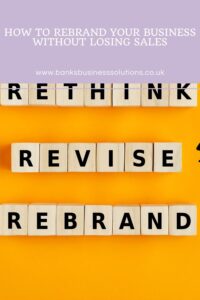 It is possible to rebrand your business how you want it without losing sales, and here are my tips for doing just that.
Question your motives for the rebrand
Be absolutely certain about the reasons for rebranding your business and whether you need to do so at all. If it's a name change or a completely different business model then there is a need to portray what you do differently with a new brand position and messaging but is that still the case if you're switching to a different target audience, or changing your products/services?
If it's not essential, consider the alternatives before taking the plunge. If it is necessary, ensure you carry out market research to check that your proposed changes are needed or wanted by your target audience and that you have data in which to plan and implement your rebranding decisions.
Plan a solid strategy before you get started
I would highly urge you to consult with a business development specialist or a marketing expert to create a strategy for your business rebrand that will guide you through the obstacles you may face.
There are many aspects of your business to consider when you're rebranding, it's not just the name and logo but website and business stationery, maybe packaging design, new copywriting and graphics, etc. You need to be aware of how a business rebrand will affect your customers, how you make and sell your products, how you provide your services, and your business processes and a plan for the transition.
You will have some questions to answer
Even if you carefully relaunch and provide all the information about the rebrand you can think of to your audience, you will still hear questions and concerns. Our businesses operate through a level of trust with our customers and many can see that trust broken when things suddenly change.
Clear and direct communication is essential for guiding your existing customers through the rebrand and keeping them on your books. Explain why you're doing this, what the changes will mean for them, why this is a better way of doing things for you and for them, and what they can expect in the future.
Anticipating this information in advance and communicating it through email, social media and your website is key, but you will still have direct questions, so be prepared to answer them.
Involve your existing customers
One of the best ways to keep your current clients onboard is by involving them throughout the rebranding process. Asking for their opinion through surveys, zoom chats and email is a great way to ensure that your plans are aligned with what they want to see from you (and may even give you some new ideas too!)
Keep them in the loop throughout the rebranding process, especially if it's going to take several months or longer. If there's a lengthy time period between telling your customers what's happening and the end result, it can still come as a surprise. So share snippets with them on social media about meetings, the progress being made, etc.
Announce the rebrand with a PR campaign
Being open and authentic is the best way to rebrand so when it's time to launch do so with a bang! Have a countdown, send emails and share the excitement on your social media. Have promotions for your existing customers such as a competition or discount offers for engaging with the new brand, so they're invited to engage with the changes.
Attending trade shows, giving talks on the growth of your business where you can discuss the rebrand and press releases/media articles are all great ways to create and share a buzz for your new brand.
I hope this blog has shown you that you can rebrand your business without losing sales but the key, as with most things in business, is planning and preparation. Doing your research, having a solid strategy in place and communicating well with your customers are all essential for a successful rebrand that will propel your business onto the next level.