Do You Need IT Support For Your Business?
There are so many expenses that come with managing a business, we often look to save money wherever we can. One area that we often exclude from our business planning and budget is IT support but is that really the right thing to be doing for your business?
In this blog, I'm going to be talking about what IT support looks like for a small business, the times you may need it and why thinking of it as an unnecessary expense might be preventing you from taking your business further.
What is IT support?
At the basic level, IT support is professional help provided to businesses for technology items, most commonly computers and software.
That help can come in various forms:
IT consultancy – expert advice on the best technology and software for your business, where to buy and what to consider when purchasing these items.
Data management – if you need to store a lot of data securely, IT support companies can assist you with getting this set up in-house, or elsewhere such as cloud storage.
Cloud-based technology – setting up software that's hosted on the cloud and available wherever you work – so if you work from home and elsewhere, ensuring you have access to everything you need via the cloud.
Internet connectivity – having the right broadband connection in place that's secure and protected against cybercrime is something IT support can assist you with, along with broadband backup solutions.
Some IT support businesses may offer more services than this.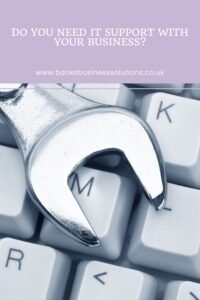 After reading through that list, you might be thinking "these IT services sound great for companies with lots of employees but it's just me in my business, do I really need IT support?". Here are some examples of when you might need to outsource to IT support for some extra help (and some of the occasions I'd have been lost without my trusty IT support on standby).
Getting the right tech in place
Often, when we start our businesses, we use the equipment we already have at home, or spend a small amount on a new laptop that will 'do the basics'. Over time though, you might realise that you need something new – maybe your current computer is old, or it's struggling to run the software you need for your business.
A few years into my business I decided I wanted to move from a Windows laptop to an Apple Mac. I'd never used a Mac before; I wasn't sure if it was the right decision for me or where to get started on finding the right model for my needs!
It was recommended that I have a chat with Jason Hicking from Turquoise IT who knew about all things Apple Mac and he certainly did! He helped me find the right MacBook for me and helped me get everything set up just how I need it.
The cost of outsourcing to Jason for this saved me a lot of time spent researching options, setting things up and avoiding the costly mistake of getting the wrong Mac for my needs (I was going to go for a more expensive option!) 
Helping with updates
Is your computer ready to be upgraded to Windows 11 and you have no idea if you should be doing it, or not? This is exactly the kind of situation where having the advice of an IT professional can help you make the right decision.
Updating software may come with a ton of new features but it may also remove the features you're currently using to run your business. A new update might not be compatible with your hardware or may simply not give you anything new and isn't worth doing at all.
Talking through the different options with IT support can give you the confidence to know you're doing the right thing with the technology in your business.
Tristan Martin has been great with helping me get my Office365 setup, and I know he has helped a number of my clients with ensuring their tech is working for them as well, he also offers free health checks so if you are working with Windows I would highly recommend you get in touch with him.
Training and hacks
How many functions does your computer have and you don't know how to use them? I think it's true to say that most of us aren't using the technology in our businesses to its full potential. We can't know everything about a new computer or new software that we use and we certainly don't have time to find out either!
But IT support do know these things and a few training sessions can really help you do more with your business technology. From time-saving keyboard shortcuts to hidden features and how they work – there are a lot of "insider hacks" that having access to can really benefit your business.
Support when something goes wrong
Unfortunately, things do go wrong sometimes. Like the time I spilt tea over my MacBook. I'd been having a productive day when suddenly my MacBook was full of tea and I was panicking!
One phone call to Jason and he was on his way to pick up the MacBook to thoroughly clean it, check for damage and make sure it was as good as new again.
But because I'd had Jason's expertise previously, I was already using cloud-based software to ensure that everything was backed-up and synced with the cloud. So, I was able to go back to my old laptop and pick up where I had left off, seconds before spilling that cup of tea! It also meant that when my MacBook was returned, I could simply turn it on, and everything was synced and ready to go again.
Hopefully, you can see how IT support has been so helpful to me with managing Banks' Business Solutions and how it could be useful for your business too. You never know when you may spill a cup of tea on your laptop, or worse, be a victim of cybercrime. Having a consultation with IT support today and implementing their ideas could save you a ton of time, energy, money and stress in the future!