Spilt Tea! A Lesson Learned About Backup Processes In My Business
When was the last time you considered what a bad day could do to your business?
We sometimes take for granted that things will always be there for us when we need them, but as I discovered last week. That's not always the case.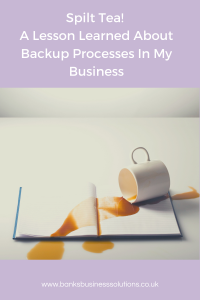 I was working hard on my MacBook and having a productive day when the worst thing happened – I spilled my cup of tea all over the laptop. I panicked, but I quickly wiped the tea off, shut the MacBook down and contacted my go to IT person for support. Although the spillage was over the power button and I accidentally caught it twice whilst making sure it was dry, I got lucky and it didn't do any further damage!
I learned how important backup processes really are when you're a business owner
Luckily, I already had an IT support person in place, Jason Hicking from Turquoise IT, who was able to come out as an emergency call to collect my laptop. Jason checked the laptop over, made sure it was thoroughly cleaned from any last remnants of tea and made sure there wasn't any damage.
Jason provided me with an amazing service (as he always does), collecting my laptop at 10pm and texting me at 1.30am to tell me all was ok! I can't recommend Jason enough, everyone needs a Jason for their IT support!
Of course, I didn't know that my laptop would be fine when the accident happened. I went through every emotion possible – anger, sadness, worry, etc. After all, my whole business runs from this MacBook!
Do you have a spare computer if yours breaks unexpectedly?
Once I'd calmed down, I retrieved my old PC to see if I could get it connected to access my work and carry on with my day. Thankfully, I was able to access Dropbox & OneDrive where I keep all my business files.  Although this took a very slow and painful two hours to access what I needed, I could get into my main email account and cloud files to meet my work deadlines.
Working from this PC was an absolute nightmare but without it, I would have been truly lost and wondering how on earth I could get my work done. I didn't know at that stage that my MacBook would be ok, so was imagining the worst!
I was concerned I may have lost some files, emails etc but as everything synced in real-time on my MacBook, I had access to what I needed anywhere I could log in to the cloud.
Put a plan in place now in case you're struck by an IT disaster in the future
Do you have a spare machine if yours breaks?
Do you have IT support in place?
Are you backing up your files in real-time?
Do you know how to access your back up files from another computer?
I've now got a second MacBook. Ironically enough, I'd ordered it 5 days before this incident and it arrived the day after! It's all set up now and ready to go if anything happens to this laptop if disaster strikes again.
I'm so glad I've spent time getting my systems in the cloud and backed up. I highly recommend that you do the same, you never know when you might need it!