Preparing for the unexpected – Things You Can Today To Prepare For Tomorrow
Take a minute or two to picture this.
You sell products through your website and use a simple form to do so, taking payments via PayPal or bank transfer. It works well for you. An order comes through, you check payment has been received and you send a quick email saying it's in hand and the products will be dispatched soon.
Lockdown has been hard, and a sudden PR opportunity presents itself. It's not something you can afford to miss so you go for it, it might generate a few more orders which would be great.
Imagine your surprise when suddenly there are 200 new orders placed on your website overnight. That's 200 orders you have to check payments for, respond to individually, and get the orders processed all at once!
Now think about your own business and if that situation applied to you. With the current processes and systems you have in place now, could you cope?
You never know when the right opportunity might come along
Most of us have a roadmap for our business.
Things like upgrading your CRM when you get so many more clients or investing in a better order management system when you reach a certain number of orders per month.
And these are sensible plans to have, but you can see how a sudden influx of orders or contact queries on a system not designed to handle it isn't just problematic, but likely to cost you money in terms of missed opportunities.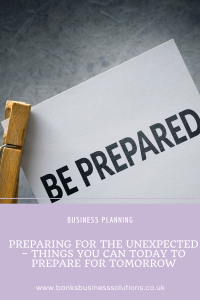 There are changes you can make today to streamline your working processes and make it easier to take full advantage of opportunities as they come because we never know when they might come along! Here are a few to consider:
Use automation wherever you can
Rather than manually sending emails to confirm and update orders, you could use something like WooCommerce to automate orders on your website. The base plugin is free (and offers that functionality) but there are paid add ons to get things just how you like them, such as taking direct payments on your website rather than using a third party.
MailChimp can be used to send bulk emails to your customers too – this can be useful when you're sending the same message to everyone, such as alerts to a shipping delay or other notifications rather than having to send each email manually.
If you sell services rather than products, another key area to automate is your appointments. Manually making appointments can be very time-consuming with much back and forth between yourself and your client (heck, imagine trying to that for 200 prospective new customers!). Using an appointment scheduling system like Calendly lets you establish when appointments can be made, and for your clients to choose the right one for them.
Consider investing in a customer management system early
A customer management system, or CRM, is a great way to keep on top of your customer's orders, needs, preferences, and details. While a CRM can be a costly expense, there are a wide range of options out there and price points, so it is worth taking a look at what you might be able to afford now.
Spreadsheets are fantastic for keeping on top of things with a small client or order base, but they're not really designed to manage large volumes or give you added versatility that many of these systems offer, such as direct email, a customer dashboard, etc.
A key benefit of using a CRM is that once the data is on there, someone else can view and use it easily without needing to come to you with questions. This is ideal if you outsource to a VA or need to send information across to a supplier for shipping, etc. Many CRMs will allow multiple logins or to share certain parts of the data held with others (and in a GDPR compliant way too!)
Outsource as much as you can as soon as you can
I know I've said this several times before but I'm going to keep saying it because it's true – one of the best things I ever did for my business was to outsource the tasks that kept me away from actually running my business!
Although you might have the processes and systems to deal with a sudden influx of work when it happens, that often means you have to put everything else on the back burner. Those tasks that need to get done but take precious time away from your money-generating activities, such as:
Marketing – you still need to attract new clients for the future, when this influx is over, so blogging, SEO, social media and other marketing still needs to be done.
Bookkeeping – invoicing, accounts, and chasing payments where necessary.
Admin tasks – sending emails, chasing suppliers, keeping on top of the paperwork, etc.
Customer service – sometimes your customers just need a friendly contact to provide them with support when needed, outsourcing this to a reliable assistant can help you ensure your customer's needs are met while you go about your day-to-day work.
You can read more about outsourcing and how to get it right in my blog – how to find the right freelancer for your business.
While it might seem like fantastic opportunities are few and far between, they really can strike at any moment. Make sure your business is ready and capable of making the most of them! If you'd like a quick and friendly chat about automating your business, using a CRM, or outsourcing tasks; do get in touch with me!