Canva Free vs Canva Pro – What You Really Need To Know
Canva is a firm favourite amongst small business owners wanting a simple graphics software to create social media posts, graphics, presentation packs and even proposals. But how you can tell if the free Canva is enough for you, or if you might be losing out by not using Canva pro?
In this blog, I want to discuss the main differences between the two and why I think it's worth paying the small fee (around £10 per month) to go with Canva Pro.
What's the hype about Canva all about?
If you're new to Canva and wonder why so many small business owners and Virtual Assistants use it, allow me to touch on the many selling points it offers on the free package.
There are approximately 250,000 free templates that you can use to create social media posts, graphics, invitations, and so much more with no prior experience necessary. I love Canva templates and recommend everyone use them to save time and money – all you need to do is change the colours, add your own photo, tweak the text and you're good to go!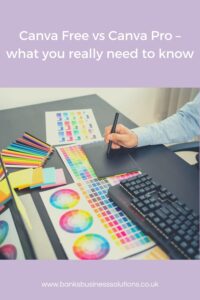 5GB of storage – that's actually a sizeable amount of storage you get on the free plan to save your finished designs. Then, all you need to do is create a copy to change the text, design, etc when it's time to batch create some graphics.
1700 fonts and 6 animation effects – to truly make your graphics stand out, you can change the font and even animate the graphics you create. It's so easy to do too, just select what you want to change/animate, choose the font/effect from the menu and you're good to go!
As you can see, Canva offers a lot to its free users and for many business owners, this is more than enough to create the graphics you need for your business. But what could you be missing out on by not going for Canva Pro?
Canva Pro is more than worth its price tag
Have you ever made a social media graphic using an Instagram template on Canva and wanted to use it on Twitter or Facebook but found the dimensions are all wrong? As a free Canva user, there isn't much you can do other than recreate the design from scratch but with Canva Pro all you need to do is click on the magic resize button and it will automatically adapt the design to the desired size – so you only need to make one design for all social media channels.
For me, that magic resize more than justifies the price tag, but here's what else you get with Canva Pro:
6100,000 templates (with more added every day)
100 million graphic elements including stock photos
3000 fonts and the ability to upload your own
Full animation capabilities so you can make your own Gifs
Create brand kits with colour palettes, fonts and logos for your business (and your clients)
100GB storage
Customise the download quality you need (so you can have small file sizes for your website)
You can see just how much more you get with Canva Pro (along with 24/7 support) but there's something else that I want to share with you that makes Canva Pro worthwhile for me.
Background remover tool. We've all got those photos we want to use within our business marketing but they're not quite professional enough due to the background. Well with Canva Pro you can remove that background with the click of a mouse. It's so easy to do and means you can take your own photos for your business and use Canva to help them look more professional.
How does Canva work with outsourcing?
Canva is fantastic if you outsource to VAs, Online Business Managers, social media marketers or marking consultants as both the free and the pro version allows you to create teams and share your designs with others.
You can also create a template and share that template with others. This is great when you work as a part of a team and want to ensure everyone is using the same design but also enables you to sell these designs on Etsy if you are a graphic designer. Lots of people create event invitations, template kits etc that work via Canva – they give the link to the template where customers make a copy and tweak things to how they like it.
So, you can even use Canva as an additional source of income (just be aware that you can't use the Canva graphic elements and stock photos when doing this for copyright reasons).
Why not try Canva Pro free for 30 days?
If you're unsure which version is right for you, you can take a 30-day free trial of Canva Pro to give it a whirl (just remember to cancel before the end of the trial if Pro isn't right for you). It's a great opportunity to explore everything Canva Pro has to offer, have a play with the Magic Resize and Background Remover functions, and create those templates for your graphics needs (you can still use the templates once the trial has ended).
Are you a Canva Pro convert or do you prefer to keep things simple with the free version? I'd love to hear your thoughts and see some of the amazing designs you've created using Canva.