Make Your Content Marketing Easier With Canva Templates
Marketing your business online can be difficult, but one of the best ways to make it catch your target audience's attention straight away is by using images.
There are a few reasons why visual content works better than the written word. It's easier to digest, your target audience are 6x more likely to remember it, and you'll get more engagement by using pictures.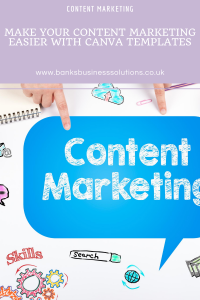 Few of us have the time, or money, to learn graphic design for our business and the good news is that you don't have to. One of my all-time favourite business tools, Canva, makes it incredibly easy to create marketing material that looks great and works well.
One of the best features of Canva that can make your content marketing easier than ever is the wide range of templates available, and that's what I want to talk about today.
What is a Canva template?
A Canva template is a pre-made design that you can adapt to suit your branding and content marketing purposes, with the ability to change the colours, fonts, photos and other elements used within the design to suit you.
Essentially, a graphic designer has created a template ready for you to change however you like for you to download and use for your marketing.
They've taken the guesswork out of combining elements together to create a good visual design which means you can focus on tweaking things to suit your brand.
I think they're fantastic and many of them are completely free too!
It's easy to find the template you're looking for on Canva
Simply log in to your Canva account and click that "create new design" button.
A drop-down list will appear with lots of template options ready for you to choose from, for content marketing these include:
advertising banners
blog banner
infographic
social media graphics
but there are many more design options available to you.
Select the option you're looking for and you'll be taken to the design screen where you'll find lots of pre-created templates ready for you to choose from.
Just click on the design you like and it'll appear in the editing screen for you to change the text, colours and images to your liking and download when you're ready.
You can create your own templates with Canva
Just to make things even easier for your content marketing, once you have found a template you like and tweaked into the perfect design for you, there is an option to save it as a template in your Canva library – ready for you to re-use when needed.
This is particularly useful for designs like social media graphics where you want consistency across your social media channels.
Just to make this consistent approach even easier, Canva for Business (the paid version of Canva) allows you to resize a design at the touch of a button. This means you can create one design and then resize it to the dimensions each social media platform prefers.
You can also share templates by creating folders accessible to others (via email address), or by having team members on your account. This can be particularly useful if you outsource your social media marketing or have a virtual assistant helping you with your content marketing.
Is it better to have the paid version of Canva than the free one?
It depends what you need to use Canva for and how often you'll be using it.
I personally prefer the premium version as it enables me to change designs to different sizes, download higher quality files and have access to a wider range of templates and design elements.
That being said, it isn't essential to have the premium version to be able to use Canva for your content marketing. Many business owners I know and work with say that the free version is fine for their occasional marketing needs.
If you're still unsure about the right version of Canva for you or would like some help to get started with Canva templates; drop me a line today for a friendly chat.