5 Things to Consider when Blogging for your Business
When you've made the decision to start blogging for your business, there are things you need to consider to help those blog posts be successful for your business. Some of these might be obvious but I think it's worth having a reminder every now and then, and to double-check your blogging strategy to make sure they're being covered.
1. Know your buyer persona 
This one should go without saying really as it's so important with every form of marketing.
Know your buyer persona (and know it well!)
Your blogs are essentially a direct conversation between you and your existing/potential customers. It's crucial, therefore, that you understand your audience and not just in terms of why they want to buy from you but who they are as individuals too.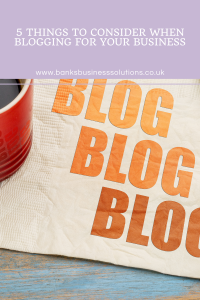 It's impossible to know everything about every customer which is why we create buyer personas based on our dream client. By picturing what they look like, what they're interested in and how they might feel and think about certain topics, it's easier to write with them in mind.
2. Your first blogs will be terrible (practice makes perfect)
Honestly, if you're new to blogging your first posts aren't going to be the best (mine definitely weren't!).
As I've just said, blogging is a conversation with your audience, and few of us know how to write in a conversational style. It's not particularly taught in schools, indeed it's the opposite to the formal English many of us are taught as grammar rules often get ignored.
It's also difficult to share your knowledge in a way that's easy to understand and digest too. Writing for the internet is about shorter paragraphs and simple language, most of us would write lengthy paragraphs when putting pen to paper. So, learning to be concise and straight to the point is a skill that takes time to master.
So, don't get hung up on the first few blogs not being great, and definitely don't give up if that's the case! Practice really does make perfect so keep trying. If, after that, you find blog writing isn't for you, consider outsourcing to a content writer who will work with you to create or edit the blogs to your satisfaction.
3. Your blogs aren't about making sales
A rookie mistake is to write a blog like a sales page, focusing on what you have to offer and your skills. The thing is a blog is a blog and definitely not about making sales.
The purpose of a blog is to give high-quality information/advice to a potential customer that has a problem to solve. By imparting your knowledge, you are showing that you have the skills and expertise to solve that problem and sharing how to do so. This will 1) make the reader think highly of you for helping them so 2) your credibility and reputation are boosted and 3) they'll remember you next time for a related problem they can't solve themselves.
A good example of this would be with topics around WordPress. By writing blogs on "top tips for choosing a WordPress theme" and "website maintenance", I'm showing that I understand WordPress. When one of those readers comes across a WordPress problem they're stuck on or need a website redesign they're more likely to think of me to outsource to because I've helped them in the past.
Focus on helping your potential customers, they'll remember you for it and it's those memories that turn into referrals and paying clients.
4. Your blogs are one cog in your marketing machine
So, what's the point of blogging if not to make sales?
Well, blogs are one cog in your overall marketing machine. They add fresh content to your website to aid in meeting Google's standards and algorithms, they provide you with content to share in social media marketing and when networking, and they can act as a trigger point for your sales funnel.
Blogs are the "discovery" and "information" stages of your marketing. Seeing a social media post about a blog enables new customers to discover you, they then read the information you have to share about that topic which is important to them. If you have your sales funnel set up correctly, at the end of the blog (or as a pop-up) you'll have a lead magnet offering even more information that they exchange their email for.
Once you have your audience on your mailing list, they're more open to hear about your services, offers and engage with you. This is the time to start gently selling and nudging them down the funnel to becoming a paying client.
5. Do collaborate with other business owners
A lot of business owners hate the idea of guest posts. They don't want to showcase someone else on their website, they don't want to send their audience away from their website, etc. But that's actually doing your readers a disservice.
It's impossible for us to know everything about everything, we all have a specialism in our business. Having guest blogs from the businesses we outsource to and work with often can provide your audience with even more helpful information that you wouldn't be able to give them otherwise (or at least not in as much depth).
Remember that blogs are about positioning yourself as a helpful, trustworthy and knowledgeable business owner, so when they are looking to buy what you have to offer you spring to their mind first. Collaborating with others can help to enforce that view not just amongst your audience but within the local business community too, and that's important.
I hope that you've found this blog useful and given you some food for thought about the purpose of blogs and what you should be considering as you sit down to write. Let me know if you'd like to discuss things further or if I can help you with your blogs in any way, I'm always happy to help.