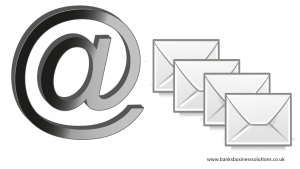 As a small business owner you most likely use one of these email clients to manage your emails:
Hotmail

Yahoo

Gmail

Outlook

Thunderbird
All of these systems have pros and cons and you also need to ask yourself what your email address is, if it is yourbusines@hotmail.com or yourbusiness@gmail.com is that giving as professional an image to your customers as yourname@yourbusiness.com or info@yourbusiness.com would?
How do I get an @yourbusiness.com email address?
If you have a website, you can have an email account that uses your domain name as most hosting packages include this, however a lot of small business owners and sole traders don't do this.
If you think this would be useful for your business then check out if you can have an email address as part of your hosting package and set one up. If you don't have a website, consider purchasing an email hosting package.
Most of these email addresses can then be linked to your email client using IMAP or POP3 – there are pros and cons to both of these methods, however a lot of hosts are now moving away from POP3 and only offer IMAP – that's another post right there, but if you want to find out more check out this blog post by How to Geek: http://www.howtogeek.com/197207/email-basics-pop3-is-outdated-please-switch-to-imap-today/
How do I access my emails once I have my email address?
You will find that once your email address is set up, your hosting company will have some instructions on how to link it to your email client – most hosts include instructions for Gmail, Outlook and Thunderbird. However this blog is about Outlook so here are my quick instructions for adding an account to Outlook:
1. Open Outlook – go to File – Add Account
2. Type in your name, email address and password – click next and Outlook will automatically search for your email account settings
3. If Outlook finds your settings you are good to go – if not you can manually enter them using the IMAP settings provided by your email host. 
4. Before you complete the set up, make sure you go to more settings – advanced and enter a root folder path – this is to ensure that all your IMAP folders come through to Outlook.
5. Once Outlook has your settings click next and Outlook will send a test email to ensure everything is working.
Please note that these instructions are only for the desktop version of Outlook which requires you to purchase an Office 365 subscription or the desktop version of Microsoft Office.
Features of Outlook I love
Once you are set up with your emails in Outlook, you can learn more about all the other things you can do with it, including managing your to do list, storing all your contacts details and using it for your calendar. 
So what are my top features:
1. You can create emails using all the features you have available to you in your usual Microsoft software – open a new email, go to the format tab on the ribbon and select HTML  – you can then use all the formatting features of Microsoft Word including adding shapes, images and tables into your email.
2. It stores your contacts across multiple accounts. I have four IMAP accounts in my Outlook and my contacts are available to access for all accounts. I can store all the information I need for each contact, including adding notes and by using the flag option – I can tell Outlook to remind me that I need to contact someone. 
3. You can colour code your to do list – I put all my tasks in Outlook and using categories I colour code them according to who they are for. I can then set reminders, assign the tasks to different people in my address list and track progress.
4. You can resend an email so you don't have to write it more than once – find the email in your sent items and open it. Go to Actions – resend this message and a new message opens with your email in it – change the email to address and salutation and away you go.  You can even save  your sent item into a templates folder if it is one you use regularly using the Move – copy to folder option.
5. You can create rules to manage your emails  – for example I want to read newsletters and blogs from certain senders at set times – so I tell Outlook to put those emails in a folder for me to read when I am ready. Outlook will even automatically flag the email for action and add it to your to do list.
6. I can synchronise my Google calendar with my Outlook calendar.
Are you an Outlook user? Has this post made you consider trying it out – let me know in the comments section below, as I'd love to hear from you.