First impressions matter when you're running a business, but all too often we neglect the formatting of our documents.
Huh, formatting?
Formatting is the visual appearance of a document and includes things like:
Font style
Emphasis of key points
Borders and graphics
Front page design
It's what turns a dull and boring report into something that looks interesting enough to read (the content, I'm afraid, is down to you although I can advise on copywriters).
The problem with document formatting is time. I mean, who has the time to sit there and make things look pretty?
A virtual assistant does.
No task is too small to be outsourced to a virtual assistant if it takes you away from the things you want to be doing for your business.
The first consideration when it comes to formatting is – what's the purpose of the document?
Is it to educate and inform?
Is it to collect personal information or opinion?
Is it to be kept for future reference?
These points will determine how formal the document needs to be along with how easy it is to use – a sign-up form needs to be simple and easy to understand whereas a future reference sheet (such as how to format a blog post) needs to look interesting and easy to remember.
It can also decide the best way to deliver that document – a pdf form that can be professionally printed, or a simple word document that can be sent via email.
We then need to consider how the document fits in with your business brand
It's important to keep your brand consistent across everything that comes out of your business – social media, web content, promotional material and documents.
That means using the same colours, logos, images and general design across everything you produce.
It also means using the same kind of text structure. Although we use shorter sentences for web content compared to what we read on paper – it's important that the text is formatted correctly for the medium it's published on.
Keeping your business documents, from letterheads to reports, 'on brand' makes it easier to read, appropriate to the occasion and ensures your business looks professional.
Let's take invoicing as an example.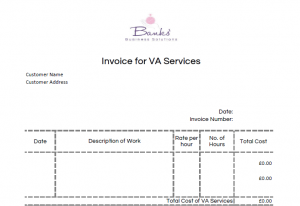 Whether you use a cloud-based accounting system or creating your own Microsoft word documents – it's important that your invoice looks professional.
Adding your logo and branding to the design of the invoice will make it stand out, ensure that your customer knows who needs paying and when, and creates a far better impression than a bland black and white document.
A VA can create a professional invoice template for you that you can turn to each time you're ready to invoice.
Is the call to action easy to see and understand?
Everything you write for your business has a reason behind it – the call to action.
The action can be prompting the reader to get in touch with you for more information or to buy something. It can also be to enrol them on a course, obtain health information relevant to a service or subscribe to a mailing list.
What do you want to the reader to do once they've finished reading the document?
For a call to action to be successful, it must be clear and easy to understand – that means it should jump off the page and be obvious to the reader. Quite often we're embarrassed about asking for things and hide this important text away by making it smaller or harder to read through font change.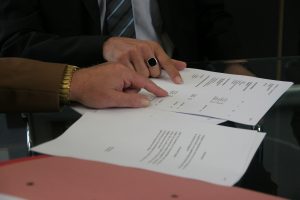 One important document to get right is your quotation and proposal template.
You need this to be easy to understand, clear on what you're offering and what you need your potential new customer to do next.
Having a standard template complete with your business branding saves you time and energy, but also keeps the acquisition process simple and in-line with your marketing and advertising.
A virtual assistant can ensure that the text and design flows correctly to an obvious call to action that gets the conversion results you're looking for.
A virtual assistant understands how to tie everything together and format a document correctly
We work with a variety of business types and have a good understanding of what makes a document look professional and drives the point home.
We're also a fresh pair of eyes that can pick up on mistakes, ensure the text flows correctly and is easy to understand and remember.
And we have the skills and software to hand to make a document stand out for the right reasons!
So, if you don't have the time or inclination to format a document for your business, why not send it my way? Contact me at Banks' Business Solutions right now for a friendly chat to discuss your needs.