Useful Plugins for Your WordPress Website
Did you know there are over 59,000 WordPress plugins you can install on your website at the time of writing this blog? Plugins can add functionality, security and visibility to a website, but it can be difficult to know which ones to install.
In an earlier blog I talked about free vs premium plugins and how to get the right WordPress plugins for your website but this time, I want to discuss my top plugin choices and why I feel they're essential for a small business website.
Security Plugin – All in One WP Security & Firewall
Keeping your website secure from malware, hacking attempts and bugs is vital and other than server-level protection with your web hosting, the only way to achieve a secure WordPress website is through a plugin.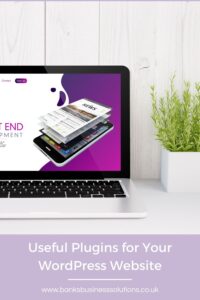 My top choice is All in One WP Security & Firewall. It's free, simple to set up and checks for vulnerabilities to protect your website. By using a points-based system, you can see at a glance how strong the security of your website is and by using the recommended features (such as blacklisting IP addresses, restricting user logins, etc) you can improve the score.
A popular alternative is WordFence Security – Firewall & Malware scan which is similar in functionality but a little less user friendly in my opinion.
Backup plugin – All-in-One WP Migration
Backing up your website before updating themes, plugins, WordPress itself or making substantial changes is essential in case things go wrong (you never know when a conflict might arise to crash your website!
All-in-One WP Migration is a simple to use plugin that allows you to export your website as a file for you to keep safe and import to reinstall the website if needed. It's been installed on over 60 million WordPress websites and is a trusted favourite.
A popular alternative is UpdraftPlus WordPress Backup Plugin which does the same job but isn't as intuitive to use in my opinion (and only has 3 million installations so others seem to agree!)
SEO plugin – Yoast SEO
Optimising your website so it's easy to find and ranks well on Google is important but can be tricky to do if you're not a coder. That is why most WordPress users us an SEO plugin Yoast SEO  – this provides a simple way to insert meta descriptions, create sitemaps, add schema to your pages and set your key words.
Yoast is also great at helping you see at a glance how optimised your content is for your chosen keyword by using a traffic light system, with green good to go and red needing some work. SEO experts tend to disagree on how useful this actually is, but it can be a useful 'at a glance' reminder.
Analytics – MonsterInsights
Using Google Analytics is a great way to see how many visitors your website is attracting, and which pages/blogs are proving popular. While you can log in to Google Analytics for this information directly, installing a plugin such as MonsterInsights can put a widget on your WordPress dashboard so you can see at a glance what's going on.
Contact Form – Contact Form 7
The overall aim of any website is to encourage the visitors to make contact with us and buy what's being advertised. For service-based businesses, we ideally want visitors to complete a contact form and Contact Form 7 is my preferred plugin.
Contact Form 7 is a simple yet highly flexible contact form builder that works with most themes and page builders such as Divi and Elementor.
Caching plugin – WP Super Cache
Websites can be slow to load due to the PHP coding used in the design and 'back-end' functions. A cache will generate static HTML files of the website pages and display these to visitors, this makes the website faster to load and search engine friendly.
WP Super Cache is my plugin of choice for doing this. It's easy to get started with and is a fantastic way to improve page loading speeds to keep visitors on your website.
Image optimisation plugin – Autoptimize
Another reason why a website might be slow to load is that the images haven't been optimised for the website. Typically, they tend to be of large file size and require 'resizing' to fit the dimensions you want to appear them as on the website, this takes time and resources to perform which slows your website down.
Autoptimize is a plugin that can compress images and lazy-load them to improve page speeds, but it can also help with minifying and deferring scripts too. Essentially, it slims down the elements on your web pages that are hogging resources so everything loads much faster.
If you just want an image optimisation plugin, Smush is a popular alternative.
Cookies plugin – GDPR Cookie Consent Plugin by webtoffee
Ok, this is a paid plugin but when it comes to abiding by GDPR it's important that you do so correctly. With this GDPR Cookie Consent plugin, you can block cookies and scripts before the visitor has consented to ensure that you do not breach data protection laws.
The other feature I like about this plugin is that it keeps a log of all the visitors who have consented to cookies, so if you are part of an ICO investigation you have proof that you've done all you can to ensure your website is GDPR compliant.
Those are my must-have useful plugins for any website, but here are a few optional extras depending on what you want to do with your website.
Best eCommerce plugin – WooCommerce
If you want your website visitors to be able to buy products or downloads directly from your website, then you need a reliable eCommerce plugin. WooCommerce is just that, it allows you to list items for sale with full inventory management, checkout with multiple payment options and set up invoices and emails for customers too.
Membership site plugin – MemberPress
If you want to have a community of members on your WordPress website, then MemberPress is a good option for creating that. Allowing you to create members-only content behind a paywall, having a member's dashboard so they can find what they need quickly and easily and enabling digital downloads too.
A popular alternative is Wishlist member which offers similar functionality.
Online Course Plugin – LearnDash
Many business owners have considered creating a course they can sell online, and yes, that is a possibility through WordPress thanks to plugins like LearnDash. With this plugin, you can create your own course and learning community that handles everything from creating the course using a drag and drop builder to marketing, sales, payment and management.
And there you have it, my recommended WordPress plugins for your WordPress website. Using these plugins, you can be sure your website is secure, search engine friendly, performing well and has the functionality you need to do what you want your website to do.
Need support with any of these plugins or further advice for your particular WordPress needs? Don't hesitate to get in touch.