Free vs premium – how to get the right WordPress plugins and themes
The right WordPress theme and plugins can make all the difference for your website's security and functionality taking a basic website and turning it into the online 24/7 showcase for your business. The wrong ones, however, can spell disaster.
Unfortunately, it isn't always easy to figure out which theme or plugins you should be using for your WordPress website. When you search within WordPress itself hundreds of different plug-ins appear with just a short (and often inaccurate) description of what they do.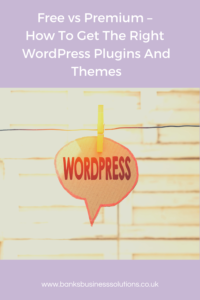 Ask for recommendations and you'll find that everybody has a different answer.
As I've been building WordPress websites for a few years now, I've learned which plugins are essential for a website to work well for my clients. In this blog, I want to share my thoughts on how to find the right theme and plugins for your website.
Is premium better than free for WordPress plugins?
For some features, yes, but generally, no. Very few websites need advanced features and although they can be nice to have, often aren't worth the yearly renewal costs. I've found that I can get most of the functionality I need for my clients' websites using free plugins, which solves the issue of them having to remember to renew each year too!
Themes, on the other hand, I do feel that you're better paying for premium. There are some good free themes out there, but they often need extra plugins to add the functionality that many premium themes offer out of the box.
Figuring out the right theme for your business can be difficult, especially when you come to realise that some of the features you need are from plugins rather than a theme itself. Demo sites are professionally coded and very different from what you'll have from your theme when you first install it. I suggest looking at some websites you want a similar feel to and check which theme they're using with scanWP, which will also tell you the plugins installed too.
I personally recommend Elegant Themes, or Theme Forest as I've been using their themes for several years now to great success, but do check out my blog on the top tips for choosing a website theme.
Deciding which plugins to use for your WordPress website
If free vs premium doesn't really matter for plugins, how do you know which ones to opt for?
There are some core plugins you need to have for any WordPress website, including:
Security
Back up and migration
Cache/optimisation
Cookie consent for GDPR
Contact form
SEO and analytics
It's your choice which plugins you use for these functions, so I do recommend doing some general research on features to look out for identifying what you'd like to have on your website.
Many WordPress users will head straight to the "Add new plugin" section and search for something like "contact form" and will be bewildered by the many plugins that appear. Look out for how many active installations there are – anything in the hundreds of thousands tells you that it does the job well.
The last time a plugin was updated is a good indicator too. As WordPress itself comes out with updates often and new bugs are discovered in themes and plugins that need to be closed quickly to prevent security breaches, a plugin that hasn't been updated in the last month or so could be problematic. Most plugins update every two to three weeks in my experience.
Also, check out the star rating out of 5 when assessing a plugin for your website. Reviews matter and are well worth a read, but any plugin with 4 or more stars that has been recently updated and has over 100,000 active installs is likely to be a good choice.
Watch out for plugin conflicts
Some plugins don't play nice with others and you may end up with a conflict on your hands.
The best way to handle this is to install your backup plugin first and download a copy of your website. Then install and set up your security. These plugins are absolutely essential at protecting your website and enabling you to get it back up and running if things do go wrong.
Then add each new plugin one at a time. Make sure you set everything up as you like it before adding another. This way, when something breaks, you have a pretty good idea that it's the last installed plugin to blame and can look for an alternative.
Do remember though that plugin conflicts can happen at any time, which is why it's so important to back up your website before updating. Click here for my tips on updating your website properly to prevent any potential pitfalls!
I hope this has given you an idea of what to look out for when selecting themes and plugins for your website. If you need any further guidance with your WordPress website, don't hesitate to get in touch with me for a chat.