Small Business Insurance – What You Need And Where To Find It
Type small business insurance into Google and you're confronted with page after page of insurance companies trying to sell to you. But what you're probably struggling to find is information on the kind of insurance you need for your small business and who is a good company to be buying from?
In this blog, I'm going to be discussing the different types of small business insurance available to us here in the UK, where to find reliable insurers and a few other bits and bobs you should really know when insuring your business.
Do I need insurance for my small business?
Yes!
Behind every business is a person and we can all make mistakes. Sometimes these issues might be out of our control, or sometimes we may slip up and get something wrong because we're tired or unwell. Whatever the case may be, having insurance means if a claim is made against you, any costs aren't coming out of your pocket.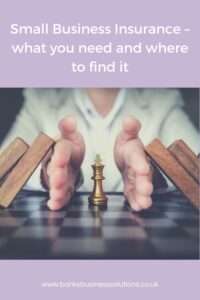 If you're in the UK and a business owner, then you need to be fully insured for what you do. There are many different insurance types that do this, and you may need just a few or all of them. Here's a quick rundown.
Professional indemnity insurance
If you offer advice or a professional service to your clients, you must have this insurance. Whether you're a bookkeeper, VA, web designer, marketing consultant, online tutor, coach or consultant (not an exhaustive list!) you need to be insured for mistakes you may make that causes a client to suffer a financial loss.
For example, if you didn't submit a self-assessment on time on behalf of a client and they were fined by HMRC as a result. Or perhaps you updated a website for a client causing it to break and be out of action for a few days resulting in lost sales for that period.
These mistakes can prove costly for your clients and it's you they'll seek compensation from. Professional indemnity insurance will step in and pay these costs if the claim is found in your client's favour.
Cyber liability insurance
Cybercrime such as hacking and ransomware is quickly becoming one of the major risk factors for all businesses. If you use a computer for any aspect of your work, you need to have cyber liability insurance as it'll cover you against the damages of cyber-attacks and data breaches.
Contents and portable equipment insurance
The equipment you use for your business needs to be insured both in and out of the home. Some home content insurers may cover home-based business use so do check with your insurer before looking elsewhere.
Public liability insurance
If you come into contact with the public while carrying out your work, you will need public liability insurance in case of accidents. Things like a customer tripping over a laptop lead or slipping on some spilt coffee can lead to a claim against you. This is also the cover you need if you deliver your service directly to the public, such as yoga classes, holistic therapies, etc.
Employers liability insurance
If you employ staff, then you are legally obliged to have this insurance. It covers you against any legal and compensation costs involved in defending a case against you by a staff member that has suffered an illness or injury while working for you.
While insurance might not be compulsory for most of us as small business owners, is it worth the risk of not insuring what you do? We wouldn't think twice about insuring our home after all!
Being insured makes you look like an attractive proposition
If you're facing competition in procurement processes or are simply pitching to work with other businesses – being insured gives the other party peace of mind and confidence that things will be ok.
Having insurance, even when it's not needed, helps with your business reputation. It shows that you care about your clients, that you understand your responsibilities and obligations and that you're doing all you can to ensure everything goes well.
Where should I buy business insurance from?
If you aren't sure which kinds of cover to get, going to an insurance broker can be a great idea. They'll run through what you do in your business, client types, business activities, etc and help you get a clear understanding of the potential risks and the insurance you need to cover them.
A broker will then take that knowledge to find you the best insurance providers for what you need – 'best' might be in terms of cost, policy features, or other benefits. It's not unusual for brokers to have access to insurance policies not available directly to customers which can be beneficial.
One of the most popular companies for insurance is Policy Bee who are insurance brokers specifically for small businesses. They make it really easy with simple online questions to figure out what you need and friendly staff who can contact you by phone or email to get things set up according to your needs.
You can, of course, shop around yourself for your insurance policies. If you choose to do this, make sure you understand what the policy covers, what it doesn't and be aware that a low price might not get you the best cover for your business.
I know that being insured might seem an unnecessary expense but many policies for small business owners are around the £15 – £50 mark, which when you consider that it covers you for potentially millions of pounds in claims made against you if things go wrong, is a small price to pay for peace of mind.