Simply Dance Nottingham: Online Business Support
The Client:
Simply Dance Nottingham is a dance studio in Nottingham run by Charlotte Davis.
Service provided
Charlotte and I met via a local networking group back in March 2017. At the time Charlotte was looking to get her dance studio more organised by using online systems as well as getting support with her website and MailChimp.
Our initial agreement compromised of some short term work to set up the following:
GSuite Setup – this included configuring a new Gsuite account, creating user accounts within this and ensuring that Google Drive access and calendars were able to be shared across the business.
Booking forms – creation of online booking forms for both regular dance classes, holiday clubs, general enquiries and parties
Full review of MailChimp to ensure optimal configuration – this focussed on linking MailChimp to a domain email account rather than a Gmail account to improve delivery rates.
Review of the clients WordPress website to ensure that it was updated and secure.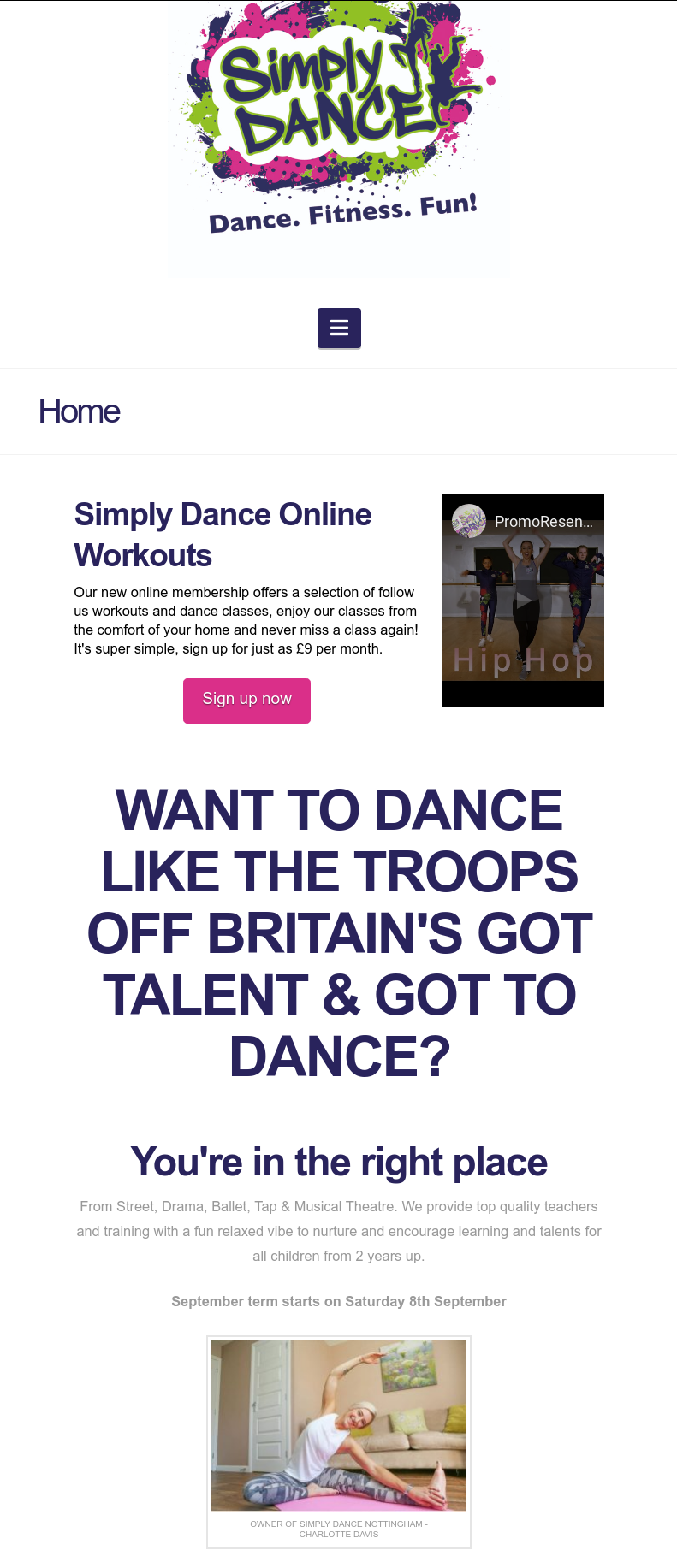 On completion of this work, we discussed further how I could support Charlotte with her business and she has remained a client on an adhoc basis allowing her the flexibility to get the support she needs as she requires it. Just a few of the things I've supported Charlotte with over since 2017 are:
Redesign of her website
Integration of a ticket booking system on her website
Creating a paid membership platform on her website
Integration of class management systems with the website
Creating new users in GSuite
Creating new Google forms and adding them to the website
Supporting with a review of administrative processes as required.
Client benefits
Working with Charlotte over a longer period of time has allowed us to get to know each other better and for me to understand how Charlotte's business works. As I am detached from the day to day, I can, not only save her time setting up systems but also by providing an independent view of what is right for her business.
Charlotte says:
"Banks Business Solutions has been a massive help for my business with keeping my website up to date, integrating all sorts of payment and booking processes which is imperative to my business. I am rubbish with anything back office to do with websites so knowing Sarah is at the click of a button makes life ALOT easier.
Having Sarah is pure convenience and releases the work which takes Sarah 5 minutes to do and me hours, freeing up my time for other things."