How a Virtual Assistant Can Help You Manage Your Workload Stress
In 2017/18 there was a 12% jump in cases of work-related stress compared to the year before. That amounts to nearly 600,000 employees suffering from anxiety, stress and depression caused by their work, and eventually leading to burnout now recognised as an official illness this by the World Health Authority.
What I want to talk about is work-related stress but not the employee kind that official figures record, the often forgotten about stress that comes from being self-employed.
Your workload can actually double when you're self-employed
Many of us start our businesses to gain a better work-life balance. Frustrated from a 9 – 5, getting stuck in traffic on the way home and barely having any time to spend with family can leave many of us feeling stressed and burned out.
So, we decide to go it alone. Starting our own businesses with our skills and expertise to work flexibly around our families. That was certainly my motivation for setting up Banks' Business Solutions.
But what you're not told is that the additional tasks you have to take on as a business owner, the admin, accounts, client acquisition, customer service, marketing, etc can often mean you're working twice as many hours just to get it done.
There might be a change of scenery, but the stress is still there.
It shouldn't come as a surprise then, that a third of business owners in the UK lose motivation to continue with their businesses due to stress at least once a year. A study by Xero found that 17% of business owners they questioned had felt "highly stressed" in the six months before their research.
Although going self-employed helped me manage my stress as I could work flexibly around my family, it took me a while to get over my initial worries and work out the best way of doing things. I had to learn that I couldn't do every single task my business required to keep going if I wanted it to be successful and meet my aims of a better work-life balance.
That's where a virtual assistant can help you
The truth is that you don't have to wear every cap to run your business successfully, you just have to focus on what you're good at.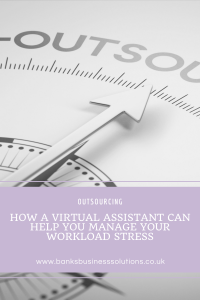 If marketing is a bore and website maintenance a headache, a virtual assistant can help. In fact, a VA can help with most business-related tasks, including:
Administrative support
Bookkeeping (if they are AML registered)
Customer service
Social media management
Tech support
Website design and maintenance
How many of those tasks would you rather forget about and leave in capable hands?
I know the cost is a big factor in your decision to outsource here, but what about the cost to your health if you don't? I know that outsourcing tasks allowed me to do more work for clients and spend more time growing my business, which actually helped me to earn more money.
It's definitely an investment rather than an expense!
Outsourcing to a VA will reduce your stress
As well as your workload.
A virtual assistant knows their specialism well and probably has some useful ideas you haven't even considered to make things easier for you. Like streamlining your processes and introducing systems to help you manage things more easily.
You're able to tap into their experiences of working with other small business owners who have been in the same place that you are now (because it's true, all of us have struggled at some point in our business journey) and know what will work well for you.
That's got to be better than trying multiple ideas that don't actually help, right?
Then there's the technical side of things. If you're suddenly logged out of your website, had your eCommerce site go awry or simply can't figure out MailChimp, don't waste any more of your valuable time. A VA will have back on your feet in no time!
Reducing your stress by helping you to manage your workload better isn't just good news for your health and wellbeing, it'll help you attract more clients, generate more revenue and spend your new revenue on what matters to you most.
If you're interested in finding out more about how a virtual assistant can make managing your business easier to handle, get in touch with me today for a friendly chat.