7 Tips for Managing Projects Successfully as a Freelancer
Many of us have experience of managing our own projects for our businesses, but it's a whole new ball game when you start managing projects on behalf of clients. It can feel overwhelming as you're unsure of how to step in and take control. You might even be experiencing some of that pesky imposter syndrome!
So, in this blog, I want to share with you my top 7 tips for managing projects successfully as a freelancer and avoiding feeling dread or overwhelm when you boot up your laptop each morning.
1 – Make sure you understand the project brief
It might seem obvious but ensuring you know what is required of you is essential. It's important to have a clear understanding of what's expected of you, the deadlines and other relevant information before you get started. The danger of not having a good understanding is that you may come to some assumptions, start doing things that way and then find out that's not what the client wanted at all.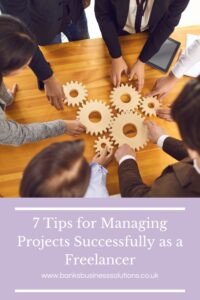 Having a good understanding of the project will also make it easier to explain the project to other freelancers involved, and what's expected of them. Without this, misunderstandings can easily occur needing more time and attention to put right.
2 – Clarify your role with the client
This might seem the same as understanding the project brief but there's a slight difference here. We're talking about what your client is expecting you to do when managing the project, i.e., do they want any or no involvement? Will they be setting deadlines or leaving that to you? How often are they expecting performance reports?
Creating a scope of work and referring to it within your contract ensures that both you and your client know where you stand and what's expected of you. Without this, there's always the risk of your client attempting to micromanage how you do things, breaking communication boundaries and expecting daily reports!
3 – Communication is critical
Communicating with the client on progress, receiving updates from team members, following up with suppliers and waiting for new information to come in…there are many parts of a project that can quickly fall apart when communication is weak.
Agreeing how communication will be managed and using the right tools (such as Slack) to do this from the outset is critical. Ensuring that everyone is clear on how to communicate and when and that any boundaries are clearly established to avoid those 11pm "urgent messages" is the best way to ensure a project's success.
4 – Use the most suitable project management software
There are a wide variety of project management software options and apps out there and so in a recent blog, I gave you a "Project Management Software 101" rundown of what to look out for and some of the top contenders to consider.
Being able to easily check in on how people are getting on with their tasks and deadlines, being able to chat quickly and easily, access to up-to-date documents and the ability to cross off tasks as they're completed are my "must have features" for any project management software.
5 – Schedule regular team meetings in advance
When you're outsourcing to a mixed team of freelancers it's important that you're able to all come together to discuss progress, issues and successes together. The problem, of course, is that as freelancers we're often working with several clients/projects at the same time and finding time for "a quick meeting next week" isn't the easiest thing to achieve!
Scheduling regular team members well in advance is important to ensure that everyone has them in their diary and can attend. It's always better to schedule too many meetings and drop the unnecessary ones as they come up than to not diarise enough and struggle to find a time everyone can squeeze in an extra meeting.
6 – Be aware of potential risks and threats to the project
To make sure the project is a success, you need to have a good awareness of the potential risks that could throw it off course. From freelancer absences to red tape obstacles – what these risks look like will vary per project.
Consider each task, who's responsible for it, the information needed, deadlines and other pertinent information and for each one, ask yourself "what happens if this goes wrong/doesn't happen?". Do you have a backup list of freelancers who can fill in at short notice? Can you move to other parts of the project if red tape holds you back in an area?
As you gain more experience managing projects, you'll have a greater understanding of the potential for things to go wrong and how to put a contingency plan in place to prevent that from happening.
7 – Consider training in project management
If you aren't trained in project management – it is definitely worth considering Prince 2 foundation or at least reading up on the key principles – https://www.prince2.com/uk/what-is-prince2 – especially if working with bigger companies.
Training can help you to improve your project management skills, be better at spotting risks and threats to a project and how to mitigate against them and how to improve on project assurance, support and controlling change too.
I hope you've found these project management tips to be useful, and they've given you some food for thought on how you can perhaps manage your next project better. Are there any tips I've left out? I'd love to hear your thoughts