Project Management Software 101
Project management software can help your business improve on the planning, collaboration and delivery of projects where several service providers are involved. This could be as simple as a web design project that has a web designer, copywriter, SEO consultant and marketing strategists collaborating together through to much more involved projects such as launching a new product.
Due to the diversity in scale and type of projects, it can be difficult to figure out the right project management software for your business to be using. In this blog, I want to cover everything from what project management apps are designed to do, to features and benefits you might want to consider for your business and some of the big contenders you're likely to be choosing from.
What is project management software?
In a nutshell, project management software is one app that covers all aspects of planning, scheduling, resource allocation, communication and delivery of a project. Its purpose is to make it as easy as possible for everyone involved in the project to work together and make it a success.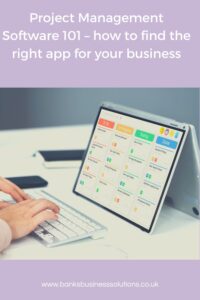 It is, of course, possible to do all these tasks without a specific piece of software but having one app or website that everyone can log into to see what needs to be done, what their tasks are, mark when things are completed, upload files and be able to chat in real-time together certainly makes things easier!
When is the right time to invest in project management software?
Software isn't cheap and although project management apps come with a variety of price tags dependent on the features you need, how many people need access, etc, the best option for you might be a costly investment to make.
Although there are some free versions of these software apps out there, there's still an investment to make in terms of time spent learning the software, setting it up and onboarding other team members to consider.
A good rule of thumb is that if you're spending time searching emails for key information, contact details, deadline dates, or important documents then it's time to use project management software so everything is consolidated in one place and easy to find.
How can I find the right project management app for my business?
A lot depends on the level of project management you require and so there's no one software or app that's the best choice for everyone. Each online system has different functionality and so knowing why you need project management software and how you're going to use it is key.
Common features to look out for include:
Task lists – being able to input tasks, allocate to people and update them when required
Schedules – project deadlines, meetings and when team members are available or absent
File sharing – being able to upload and access up to date files
Communication – enabling quick and easy communication with the entire team
Reporting – being able to report back on completed tasks and potential issues so the project manager is aware of the status of the project at any given time
There are many project management apps out there to choose from and I'd always recommend taking the time to do some research of your own but here are the most popular ones I've come across when working as an online business manager with my clients.
Asana
Asana is one of the most popular project management apps out there which does offer a free version with limited functionality. It's ideal for remote teams to collaborate together with the ability for individuals to track only what's important to their role by breaking down projects into lots of tasks with clear goals.
There's a mobile phone app to help you keep updated when you're out of the office and Asana can be integrated with Slack, Google Drive, DropBox, MailChimp and other software to add further functionality.
ClickUp
An agile-based project management app, ClickUp is focused very much on the team and is customisable to how your team works with the ability to manage sprints and allocate points for task completion.
It offers everything you'd need from live chat with members to a whiteboard planning and idea generation space, through to setting tasks, deadlines and having documents easily accessible.
Microsoft Project
This is a much more formal piece of software. Although Microsoft Project integrates with Office 365, some training is needed to get started with it and it's much harder to integrate it with non-Microsoft tools such as Slack and Google Drive.
Despite these issues, Microsoft Project was one of the first project management software programs to come out and has been used for many years and as such a lot of bigger companies do use it. If you do collaborate with large companies within your work, it might be worth considering this option.
TeamWork
For the project manager who wants to keep on top of things, TeamWork is probably the app for you as it's designed so you can see everything in one place and quickly be able to surmise the state of play.
Including time tracking, reports and budgeting, this project management software is designed for those larger projects and is popular with big corporations such as Netflix, Disney and Spotify.
Trello
Trello is an online Kanban tool which utilises cards that you can move around on a dashboard-type display and make accessible to other members – meaning you can have a conversation with your VA on one card, your to-do list on another and the important deadlines on a third.
It's one of the more intuitive project management apps out there with the free package offering unlimited boards, cards and members making it ideal for many small business owners. For the added functionality that many of the others offer as standard though, you may have to upgrade to the enterprise package.
The right project management software for you is a difficult question to answer as cost, functionality, training required for team members and familiarity with different software are all factors to consider.
If you have a core team of fellow freelancers and business owners that you collaborate with often, it's worth asking what they currently use and keeping this in mind when making your decision, as using what people are already familiar with and competent using can often be the deciding factor.