What Does A Skilled Online Business Manager Look Like? My Training Journey So Far
When you outsource to an online business manager, virtual assistant or other professional to help you with your business, you want to be sure that they have the training and skills necessary for the tasks they're helping with.
It can be difficult to know what to look for and there are many different forms of training courses out there. It's not like people can go to university and study a degree in online business management (so far!).
While I am an accredited member of the Association of Professional Virtual Assistants (formerly VIPVA) which you can read about in this blog, I thought it might be a good idea to talk through my training journey and how I've developed the skills and expertise I use today to help businesses with their online technology needs.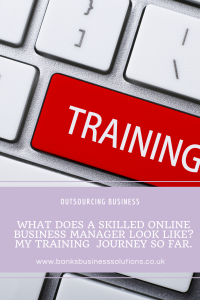 I come from an office-based background
I have over 20 years' experience working in offices with a focus on organisational skills and project management. With in-house training, Prince 2 foundation training in project management and on the job experience I learned a lot there that I use daily today as an online business manager to help others.
An interesting fact you might not know about me – I have a maths degree. Understanding the logic behind mathematics also helps with organisation and project management as a whole, even when numbers aren't involved!
I developed the skills my clients needed
When I made the jump into being a virtual assistant, it was primarily with admin and organisation in mind. I didn't realise at first that virtual assistant covered a much bigger area than that and that many of my clients would need different tasks completing than I originally had in mind.
So, I self-taught myself the necessary skills, such as WordPress, initially. Trying things out on my own website to figure out what works and if I enjoy it enough to offer this as a service (which I do!) and then backed this up with Techie Mentor Training and other online training like WordPress Basics, WordPress Bootcamp, Wishlist Member Bootcamp, etc.
Once I was confident with my WordPress website design skills I introduced the service to my clients, including WordPress maintenance, and I haven't looked back since!
It's not just WordPress that I have learned this way, things like Facebook marketing, Canva, MailChimp and other online techie skills like blog management, landing page creation and online customer support I've learned through courses like Facebook Marketing Mini Masterclass, Introduction to Infusionsoft, and Online Biz Skills.
I continually update and upskill on what I've learned
Online technology is a fast-moving industry. Things are constantly changing and although the fundamental skills remain the same, it's important to keep my skills up to date.
That's why I've watched lots of training videos from key software platforms including Zapier, MailChimp, Google Apps, Canva to name a few so that I can upskill in these, and I'm signed up to update webinars and future training videos to keep on top of it.
I also attend virtual summits, conferences (online and in-person) and other training and information-based events to make sure I'm keeping on top of changes and aware of new software, apps, and other aspects of online business technology that might affect my clients.
I also network regularly and learn from the people I meet. I'm not an expert in all things and just by talking to new people, I can pick up some helpful tips and tricks of their trade that can benefit my clients, like trying a different app for a task I already do that takes less time or gets better results.
Being skilled isn't just about the textbook study you've done or the training that you've had. It's about learning from past mistakes, staying updated, regularly using leaned skills and having the benefit of experience behind you.
All of these things combined make me highly qualified to support your business.