Networking Within Your Sector – It's Time To Embrace Your Competition
I'm sure we've all visited those networking groups that allow only one individual from a certain profession, so only one accountant, solicitor, virtual assistant, electrician, etc. The idea is that everyone else will have one "go-to" person to recommend when the occasion calls for it.
While it's a good idea in principle, what happens if that individual serves a different target audience than the person seeking a recommendation? If the accountant only cares for limited companies, they can't be recommended for sole traders. If the web designer only works on 1k plus projects, but you have several recommendations for much smaller and simpler websites, the one seat policy doesn't work well in most cases.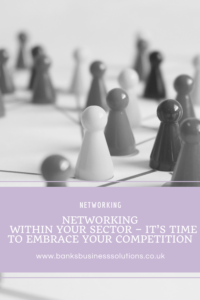 "It's to reduce competition!"
I hear you say, but is that really the case? When we all have our own unique selling points and target audience, isn't the concept of competition somewhat fluctuating, anyway? Wouldn't it be better to be able to recommend the right person for the job every time rather than no one at all or someone that just can't help?
While these networking groups are unlikely to change anytime soon, one thing you can do to widen your networking sphere and get in front of your ideal target audience is to network within your industry.
Yes, really.
Your competition could send a lot of work your way
I network regularly with the other members of the Association of Professional Virtual Assistants (formerly known as VIPVA). We all fall under the umbrella of "virtual assistant" yet offer a range of different services from website design to admin, bookkeeping to SEO, social media management to sales funnels, and more.
Not only does networking together help us talk through issues and difficulties we might come across in our day-to-day business and find new ways to deal with these problems, but we also lookout for opportunities for each other and know who to recommend for something we don't do. For example, I often recommend people who take care of SEO and social media management because my website clients need these services that I don't provide.
It's not just virtual assistants that can and should network in this way. Financial and legal professionals often have their own networking groups too, as their roles can be so varied and diverse. But I believe that any profession can have their own networking group – not every social media manager will serve the same target audience, nor is every website designer, builder, window cleaner or painter and decorator.
Join regional networks
If there is a professional body or association that oversees what you do, make sure you check out their regional (and national) networking events. Yes, there will be attendees who are more successful than you (or just appear to be!) and some who are masters of networking, but please don't let that put you off.
Making yourself known around your industry is important, not just in the hopes of new business opportunities that might come your way but for your general marketing efforts too. The more people that know you in real life, the more likely your social media efforts will succeed when you connect with them online, for example.
You're also more likely to hear industry updates and news at these kinds of events that can give you the head start on changes you or your clients need to know about.
And you might just find that your "competition" is far more friendly and supportive than you ever expected. So, go on, give it a try; make your next networking event industry-specific and see how connecting with your competition can benefit you.