The Client:
Invisible Orchard Coaching provides life coaching and havening to help people reach their potential and free them from stress and anxiety. Nicky Yassin is a life coach and owner of the company, which is based in Long Eaton, Derbyshire.
Service provided
I met Nicky at a networking event back in Autumn 2014 and we got talking about her website. It transpired that she was looking to get a new site developed and to have some training to allow her to manage and update the site herself.
Following a full consultation in January 2015, I put together a proposal for a simple 6 page WordPress site using the Catch Box theme. Nicky provided the content for the site and I did the design work on it.
The site was handed over in February 2015 and this image is a snapshot of the final site at this time: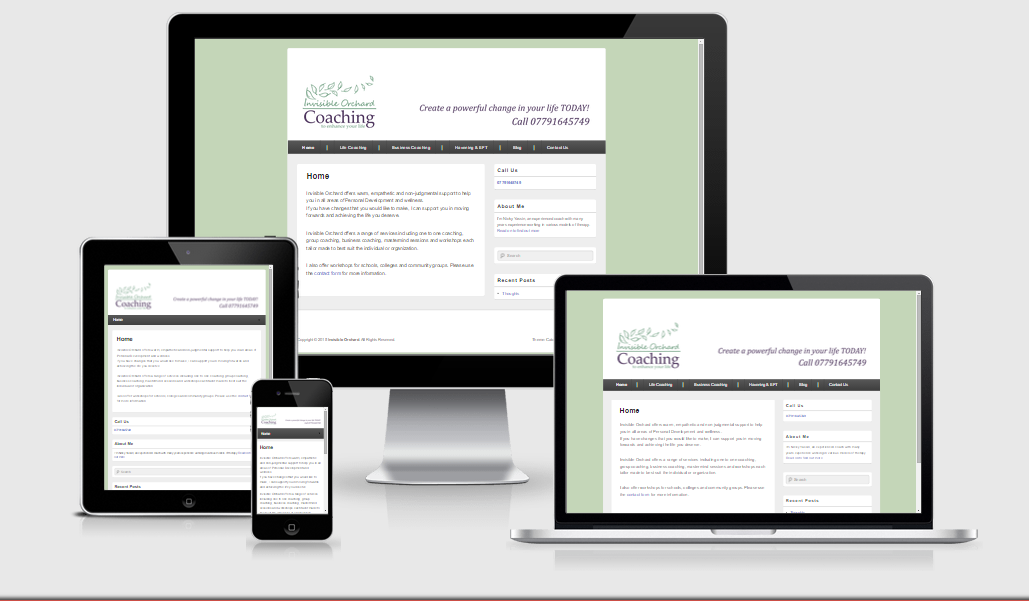 On handover of the site Nicky said:
"As someone with very little knowledge of working websites, I found Sarah to be informative, supportive and helpful. Sarah was very mindful of how I wanted the website to work and look and was happy to amend and tweak until I was happy. I would recommend Sarah and really appreciated her service."
 Client benefits
One of the biggest benefits to Nicky was having the ability to manage and update her website herself. Many clients come to me due to not being able to do this and all websites I build are designed with this in mind. On handover of all sites, I provide a guide to using the site and clients can also benefit from a reduced rate for further 1-1 training should they require it. Nicky did just this a few months after handover and after just a couple of 1-1 sessions she said:
"Training with Sarah has enabled me to take control of my website and update and change content when required."