5 Things To Know About Using Infusionsoft For Your Marketing
If you've been following this blog for a while, then you'll know that I love MailChimp and recommend it for most small businesses as they start out. It's a great marketing system with a lot of features but if I had to choose between the two, I'd say that MailChimp is the fiesta of email marketing while Infusionsoft is the Ferrari!
The reason I don't recommend Infusionsoft straight away is that there's quite a lot more to learn about the system to be able to make the most of it. In most cases, Mail Chimp can achieve what you need to in the early stages of your business, but there does come a point where you need more.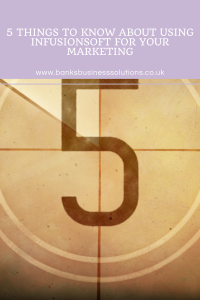 That's the point where InfusionSoft comes in. At its most basic level, it's a really powerful email marketing system but it actually offers so much more than that, it really can become a "one-stop-shop" of functionality for your online business.
With that in mind, here are the top 5 things you should know about using Infusionsoft for your marketing.
1 Map out your marketing with campaigns
Infusionsoft can be used as a "mind map" of connecting pieces. Every campaign has an action that triggers it, such as signup to a lead magnet offer. You can then use this to branch out into the other areas on your mind map by creating sales funnels based on the things you know that subscriber is interested in (i.e. related to their original signup) and trigger further signups.
The aim here is to build a strongly personalised sales funnel for each contact by leading them towards your chosen goal – usually the purchase of your product or service, by taking them down each branch of the campaign to figure out what they're interested in.
You'll then be able to use your analytics to see what's working and what isn't to refine your overall campaign and the sales funnels within it to really niche down into what your subscribers are looking for until they make that purchase.
2 Contact management is made easy with Infusionsoft
One of the best things about InfusionSoft is its contact management capabilities.  It allows you to automatically create tasks to follow up on your contacts based on certain actions. So, if they sign up you can create a task to send them a direct, personal email to really nurture them and make them feel special (and find out more about them to refine your sales funnels!)
Contact management can also be used to manage your subscriber list, check-in on folks who haven't opened emails in a while or taken action, etc. This can ensure that the audience you have is truly engaged with you and what you do, so they're more likely to buy from you in the future.
3 Smart forms make it easier to collect information
InfusionSoft has built-in forms that you can easily integrate with your website or use as standalone forms to collect the information you need from your subscribers and audience. Personalised fields mean that you can really make the forms work for you and only collect the information you need (which helps you to be GDPR compliant too!)
Forms can also be used to gather feedback from clients and subscribers, carry out market research, see what's working and what isn't and be able to fine-tune your marketing according to the findings.
4 Infusionsoft has a built-in booking system
InfusionSoft has many more features than I've talked about so far as I'm coming from the email marketing perspective, but it is worth talking about their inbuilt booking system.
If you run a service-oriented business, talking to your clients and prospective customers is essential. Appointments and diary management can be tricky to handle, especially at busy times! Infusionsoft can make it simple and easy by allowing you to sync your diary and when you're free for appointments and enables your audience to self-select a good appointment time for them.
With email reminders that can contain links to your virtual meeting room, attachments, and other information, it's a great way to minimise no shows and make meeting your clients easier than ever.
5 There are many more features to discover with Infusionsoft
There is so much more than meets the eye with Infusionsoft. Yes, it's a marketing system and an incredibly good one, but you can also use it for quotes and proposals, invoices and payment collections, and as a digital selling platform too! Here's a quick look at some of the many features on offer:
A/B testing
Analytics
Appointments
Automation
Checkout pages
CRM (contact management)
Invoices
Landing pages
Order forms
Quotes
Recurring payments
Sales pipeline (funnels)
Shopping cart
Smart forms
While there's a bit of a learning curve to Infusionsoft (and why I'm here to help!), once you get used to this system you'll find that it really does make life so much easier and more efficient for you as a business owner.