How To Invoice Your Clients And Actually Get Paid
Invoicing is a business task that fills many business owners with dread. Somehow, asking for money for the work you've provided seems so hard to do. Of course, there's the time aspect involved with the paperwork itself but even once the admin has been done, chasing delayed payment and getting what you're owed can feel overwhelming.
But this blog was actually inspired from an experience on the client-side of things, and it might help to put into context why invoicing (and in the right way) is so important.
My client was receiving coaching services from a provider in the USA. Rather than the coach sending an invoice each month that my client could pay and file away for her own records, she was requesting that my client send a manual payment via PayPal instead. This meant extra work for my client, no paper trail for HMRC to see why she was sending this money each month and she was putting herself at risk from PayPal's refund/chargeback policy – basically if she wanted a refund, she wouldn't have been able to get one as there was no invoice attached to the payment.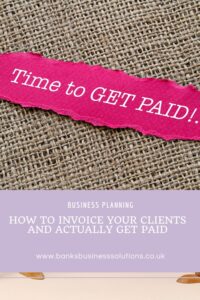 While this might have been seen as a simple way of doing things for the coach who perhaps struggled with admin/technology, it actually helped neither of them and could have created a lot of problems further down the line had it continued.
So, here's how to invoice your clients the right way.
Decide how you want to get paid
What is the best solution for you? Bank transfer/standing order is preferred by most business owners especially for recurring work but might pose a problem with international clients, many in the USA still use cheques for payments as their banking systems are somewhat different to our own. In that case, PayPal or Stripe might be a good alternative to use.
A lot of business owners try to avoid using PayPal or Stripe because of the service fees, or they'll add the cost on to their clients. Yes, it's frustrating to have a cut taken from your earnings but it's a genuine cost of business, i.e., a tax-deductible expense. You'll get it back in the form of a reduced tax bill at the end of the year.
Get your contract right
Getting paid correctly is all about getting the details right and the first step is your contract terms and conditions. You need to have in here when you will send your invoices, what your payment terms are (immediate, 7 days, 14, 28, etc), VAT, how you will accept payment and what will happen with late payment (reminders, added interest, debt collection procedures, etc).
It sounds scary but getting this into your contract means you both know where you stand, there are no hidden surprises for your clients when it comes to payment time, and you can take legal action if necessary as you have the paperwork to back up your claim.
Use an accounting package
Yes, you can use a spreadsheet and create your invoices in a word document but eventually, as your business gets busy, you'll be creating too much additional work for yourself. The beauty of using an accounting package like QuickBooks, Xero, etc is that it takes just a few minutes to enter the numbers that'll generate an invoice for you (and send it for you in most cases), it may even be able to take payment via Stripe/PayPal integration, it'll send automatic reminders when needed but it also creates that easy to read paper trail HMRC are looking for.
It's so much easier to generate your self-assessment at the end of the year when you've been using an accounting package all along, and it helps you to keep an eye on your cash flow too.
Make sure the invoices are accurate
An invoice should have your address, client's address and details, an invoice number, invoice date, the date payment is due, VAT/tax where appropriate, information on how to be paid i.e., your bank account details, payment link for PayPal/Stripe.
Also, make sure the total you're asking for is accurate and the same as what was agreed on in your contract/scope of work. If there has been a split due to a longer project or you're breaking the payment down into instalments, make sure that's clearly defined. If you need to claim back the cost of expenses for the project, label them accordingly and individually where possible, and make sure you send the receipts/invoices to your client too.
All of this can be achieved quite easily in PayPal itself if you prefer, and you can even create subscriptions/recurring invoices with quick and easy payment buttons for your client to click on and pay you straight away too.
Invoice regularly
This is where a lot of business owners fall down, they forget to invoice their clients or keep putting the admin off. When you're not invoicing, you're not getting paid, and the cash flow issues arising from that is a common cause for small businesses failing.
Set aside a dedicated time of the week – every week – to take care of your invoicing. It'll probably only take an hour or two of your time, but it's time worth spending to ensure you have a steady supply of money coming into your business for the work that you're doing.
If that idea fills you with dread, please outsource your invoicing to a bookkeeper or virtual assistant. It'll quickly pay for itself when you're getting that money into your business that would otherwise take weeks or even months for you to get around to dealing with.
Invoicing might seem scary or difficult to do but it's an essential part of your business so worth taking the time to get right. We're not all good with numbers or admin and that's ok, that's why virtual assistants and bookkeepers exist! So, if you make any intentions for your business this New Year, try and make getting on top of your invoicing be your number one goal, your business really will thank you for it.