5 Top Tips for Getting Feedback from your Customers
Reputation is so important when you're a small business owner, often it's because you have a strong reputation that customers will choose you rather than an agency or larger business type. One of the best ways to improve your reputation is by listening to the feedback from your customers and acting on it.
But how do you get that feedback?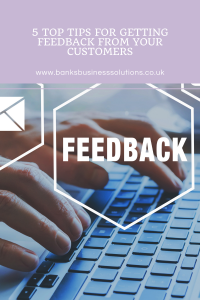 Getting feedback can be tricky to do, especially for service-based businesses. All too often we'll ask and not get a response, or just get a simple "everything was great, thanks". So, in this blog, I want to share some tips with you on how to get feedback from your customers.
1 – Decide on various feedback points
A lot of people are afraid to ask for feedback, so they put it off, and then the opportunity is gone. When you deliver a service or project-based work, you might think that once things are complete is the time to ask, so you send the email and then never hear back.
I think it's a good idea to ask for feedback at different stages of what you do. If you sell products you can ask about the shopping/checkout experience, then ask for feedback about the delivery/item itself later on, for example. Often, by the time you've waited a few days for an item to arrive you've forgotten what the shopping experience was actually like but if you'd had a brief survey at the time, could have given accurate feedback.
Similarly, if you're a service-based business there's the discovery call/onboarding phase, the "how things are going phase" if it's a longer project that requires collaboration, and finally the project completion.
What your particular feedback points are going to be will depend on what you offer for your clients, but don't fall into the trap of thinking you have just one opportunity to collect feedback when there might be several.
2 – Ask for feedback in different ways
Some people prefer phone calls to emails, specific questions to open-ended ones, essentially not every way of asking for feedback is going to work for every customer. With that in mind, having different ways to ask for feedback is important to ensure you get the best response rate.
Creating a short survey on Google forms with specific yes/no questions, scales from  1 – 5 along with free typing responses can work well but they take time and effort for your customers to complete. Offering an incentive can sometimes work, like a discount on a future purchase.
Sending an email or a LinkedIn recommendation request is another approach you can take but these often get lost in cluttered inboxes and a screen full of notifications.
General "what do you think" questions on social media can work well but it depends on what you do, some customers might not want to share with the world they've used your services, such as debt collection or ghostwriting, perhaps. An anonymous means of collecting feedback is going to be better in these cases.
Whatever you decide on, be aware you'll probably need to use more than one approach to collect enough feedback from your customers.
3 – Outsource feedback to a virtual assistant
If you don't have the time to collect feedback and feel your customers would prefer a more personal response, why not outsource the process to a virtual assistant?
With a script explaining that they are tasked with collecting feedback to improve your working processes and systems, you'll probably find that your customers are more likely to open up about their experiences with your business – good and bad. Often, our customers might be afraid to talk about the bad things with us directly but find it easier talking to someone else.
Giving your customers a heads up with an email that this will be happening is always a good idea, and an option for how this feedback is collected either via email, phone call survey or even live chat will help. If you have the resources to collect feedback in this way, it can certainly be worth it.
4 – Have a suggestion box
If most of your clients are on retainer agreements or regularly purchase from you, you need a way to collect feedback from them more than once. A suggestions box can be a great way to collect anonymous thoughts and ideas from your customers.
While this is simple to put into place when you have physical premises, it can be a little harder to do online (but not impossible). Free Suggestion Box allows you to set up a free, anonymous way of collecting feedback from your customers, and as it's anonymous it's GDPR compliant too.
Having the link in onboarding documents, email signature and invoices are a great reminder that it exists and that you appreciate ongoing feedback. If you have a large enough customer base, you might want to offer a monthly prize draw to encourage responses.
5 – Have an annual customer service survey
A lot of businesses take this approach as they're able to create an in-depth survey covering all aspects of their business, products/services, customer service, future plan ideas and get feedback for them.
By making it an annual event, some hype can be built around it on social media, email newsletters, etc and customers are generally more aware of how important it is and may be more likely to complete it. As it's an annual event, offering a prize draw or other incentive can be easier to manage from a cashflow/workload perspective too (psst, doing this just before your usual quiet times can be a great way to generate some additional work).
As this kind of survey can take a lot of planning, form creation and technical expertise, it is often a good idea to outsource this to a virtual assistant to take care of things for you. As a point of call for technical issues/general questions, etc, you can carry on with your day-to-day business tasks while this is working hard in the background collecting customer feedback for you while carefully monitored by a VA.
If you need help with collecting feedback from your customers, whether that's creating surveys, email templates or managing the campaign, I'd be happy to help. Let's hop on a call and discuss what the best approach is for you and your business.