Email is so important when it comes to running a successful business.
Are you using it properly?
It's easy to feel lost with an overflowing inbox, or not have the first idea about how to start an email marketing campaign. That's where Banks' Business Solutions can help you.
Email Management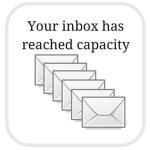 We can work with you on a one-off basis or regularly, to get your inbox organised. Often, our clients come to us when they take some time away from work and don't want their emails being unmanageable when they return.
We can also work with you to help you use email more effectively.
By identifying the emails you send most often, we can turn these into saved 'templates' ready to be sent when needed. Ideal if you have lots of enquiries all needing the same information, etc.
Email marketing


Email marketing is one of the best ways of gaining more sales and repeat custom. Keeping in touch with your clients – past, present and potential, is important, and can often lead to repeat business and referrals. The down side, is that it can be time consuming.
This is where our Virtual Assistants can assist you with your email marketing needs.
We'll work with you to create and configure your email marketing system, import the email contact details and get you started with your first newsletter. We'll even assist you with integrating an email newsletter sign up form on to your website and social media accounts.
Once everything has been set up, we can work with you on a regular basis to provide newsletters. That way you can keep engaging with your clients and reminding them of what you have to offer.
Like everything that we do, our services are tailored to meet the needs of you, and your business. Whatever your requirements are regarding email management or marketing, we're ready and able to help you, and can create a bespoke programme of support if needed. Just get in touch today to find out how we can help you tomorrow.