Streamline Your Success: The Best Online Booking Systems of 2023
In my previous blog, How Online Booking Systems Can Help You to Maximise Productivity and Enhance Client Experiences, I talked about how beneficial online booking systems are to small business owners. As the title indicates, online booking systems are more than just scheduling tools, they can help you grow your business by managing every aspect of your meetings, from pre-qualifying questions with new clients to enhancing their experience and engagement with your business.
In this blog, I want to talk about the importance of choosing the right online booking system for your business and talk you through some of the popular ones used by small business owners to manage meetings with their clients.
Importance of Choosing the Right Online Booking System
A well-chosen system acts as a catalyst for your business growth, by helping you to streamline administrative tasks and improve client satisfaction. But it's difficult to do that without a good booking system that offers a pleasant and hassle-free booking experience for your customers while ensuring it's easy for you to make the most out of it too.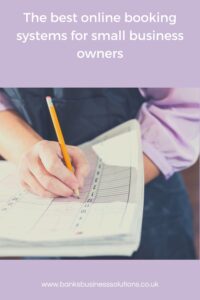 A poorly chosen booking system can create more problems than it solves. Scheduling conflicts could arise if the system doesn't sync with your diary properly, resulting in double bookings or missed appointments. A system with poor user experience design could frustrate customers, causing them to abandon the booking process midway. Similarly, a system that doesn't integrate well with your existing processes and systems could create bottlenecks and add to your workload.
The aim should be to select a system that aligns perfectly with how you operate your business with the necessary features that allow you (and your clients) to schedule meetings, discovery calls and other functions quickly and easily.
The Best Online Booking Systems in 2023
The landscape of online booking systems in 2023 is varied and diverse, offering solutions tailored to different business needs. Whether you run a fitness studio, a consultancy firm, or a hair salon, there's likely a booking system designed with your specific requirements in mind. Let's delve into the online booking systems that I believe offer some of the best features for small business owners in 2023.
Sign In Scheduling (formally 10to8)
Sign In Scheduling is a powerful online booking system known for its user-friendly interface and robust features. Its intuitive layout makes it easy for both businesses and customers to use. However, while Sign In Scheduling offers a broad range of functionalities, its extensive options may feel overwhelming.
Pricing varies based on business size and needs, with plans starting from free to premium tiers. Standout features include two-way calendar sync, appointment reminders and the ability to handle multiple staff and locations.
Acuity Scheduling
Acuity Scheduling is a flexible online booking system that adapts well to various business types and sizes. It shines in its ability to customise booking forms and offer personalised customer experiences. On the flip side, its user interface, though highly customisable, can feel complex for first-time users.
Acuity provides a range of pricing options, including a free tier and various premium levels. Notable features include appointment type customisation, client management, and integrated payment processing.
SquareSpace Scheduling
As a part of the well-regarded SquareSpace platform, SquareSpace Scheduling excels in design and is a great option for businesses already using SquareSpace for their websites. One potential downside is that it may not offer the same level of customisation as standalone booking systems.
Pricing is competitive and scales with the number and types of features you need. Key features include website integration, customisable layouts and a client history dashboard.
Acuity Scheduling and SquareSpace Scheduling are both owned by Acuity, however, the SquareSpace version, is like you'd expect, designed to work seamlessly with SquareSpace websites. If you are looking for more functionality and customisation, you'd probably be better opting for the standalone Acuity Scheduling.
Book Like a Boss
Book like a Boss is a comprehensive booking solution perfect for entrepreneurs and small businesses. It provides a straightforward, no-nonsense approach to booking, with a focus on simplicity and ease of use. However, it might lack some advanced features offered by competitors.
Pricing is on par with other systems and the platform offers specific features like digital product selling, video conference scheduling and customisable booking pages.
Each of these systems has its strengths and areas for improvement. While Sign In Scheduling shines with its extensive features, Acuity impresses with its customisation capabilities. SquareSpace Scheduling is an excellent choice for those seeking seamless website integration and Book Like a Boss stands out with its straightforward approach. The best system for your business depends on your specific needs, budget and personal preferences.
The right online booking system can make a significant difference in the smooth operation of your business and the satisfaction of your customers. Whether you choose Sign In Scheduling, Acuity, SquareSpace Scheduling, or Book Like a Boss, ensure the platform aligns with your business needs and offers the features that matter most to you.
Take the time to look at what each online booking system has to offer and take advantage of any free trials so you can explore which one is going to be the best fit for your business. If you do find setting up an online booking system to be complicated and overwhelming, don't panic. Get in touch with me to discover how I can take away that headache for you, enabling you to get straight to the benefits!