What happens when you work with me, Sarah Banks, to improve your business
Most of you know I support business owners with their tech but did you know that when you work with me there are other benefits….
In this blog post, we will explore the main benefits of working with me as an online business manager and tech support professional, including reduced anxiety, a strategic partnership, and more time to focus on what truly matters.
Working with me will help you reduce your anxiety
Small business owners often have anxiety about how the moving parts of their business will link together and function seamlessly. By working with me, this anxiety will be significantly reduced as I can support you by implementing and testing solutions and offering troubleshooting help to ensure that everything works as it should.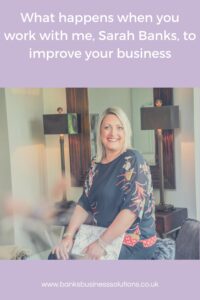 My clients know they can send me a message and I'll jump in to provide the assistance and support they need so they can focus on the other aspects of their business with reduced anxiety and stress levels.
You'll gain a strategic partner when you work with me
How often as a business owner do you have ideas but no one to use as a sounding board? As a tech support and business professional, I can become your strategic partner, providing advice and helping you make informed decisions based on your long-term goals.
My clients use our catch-up calls to discuss ideas and I can help them make decisions as to whether to implement them based on their long-term vision or if some alternatives may be a better option.
A client recently said "…really helpful to talk things through thank you nobody wants to talk about my business 🤣, it's good to know I can chat things through with you"
You'll have more time for what matters
More time! – this is the one we all want isn't it – more time to do the things we love. Setting up and managing business systems can be a time-consuming task, especially for those who are not technologically inclined.
I can handle these tasks more efficiently, freeing up your valuable time. This allows you to focus on other aspects of your business, or even make time for other things that matter like your family, friends and hobbies.
Working with an online business manager is cost-effective
One of the most significant advantages of working with a tech support professional is the cost-effectiveness of their services and I'm no exception!
For small to medium-sized businesses, hiring a full-time staff member can be prohibitively expensive. However, partnering with me allows you to access expert knowledge and skills at a fraction of the cost.
I can also help you avoid costly mistakes that may result from a lack of expertise in business systems and related tech. Ultimately, this cost-effective approach enables you to allocate resources more efficiently and focus on growing your business.
Working with me gives you so many benefits in terms of supporting the tech side of your business but having peace of mind, with reduced anxiety and stress levels is an added bonus many of my clients appreciate.
"Working with Sarah makes me feel as supported as if I were working in a team environment, which, as a sole trader, is essential. Nothing is ever too much, she is extremely knowledgeable about the legalities and necessities of running a small business and she is also well connected for any jobs that are outside of her remit."
If you would like to have a chat about your business, I offer a FREE 30-minute discovery call so please get in touch to book this in. This is an excellent opportunity to discuss your business needs and find out how I can help you unlock business success.