You know how important it is to have a website these days. Google is the Yellow Pages of today, and if you can't be found there then your potential customers are unlikely to know that you even exist. But knowing what to have on your website can be a bit of a minefield! There's so much information out there about what to have and what not to have, it can make it difficult to get started.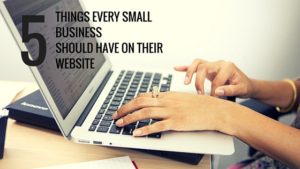 So here's my handy guide to what every small business should have on their website.
Home Page
This tends to be the page that your visitors will arrive on first – think of it as your shop window, you want to entice your visitors to step through the door into your 'shop'. If the home page isn't attractive to your visitors they'll go back to the Google High Street and visit someone else instead.
So how do you make your home page attention grabbing?
By immediately showing that you can solve your visitors needs and problems. Think about when you visit a shop, you go there to solve a need – you've run out of milk and need it replacing, for instance. It's the same with websites. Potential customers visit my website because they are looking for a Virtual Assistant to help them. So I have to ensure that my home page recognises the problems they may have – too much admin, unsure how to use WordPress, etc; and show that I can provide the solution.
What problems do your clients face?
What keeps them awake at night?
How can you solve these issues for them?
Provide the answer to these questions on your home page and you will have your visitors exploring the rest of your website to find out more.
About Page
This is the page that most business owners seem to get wrong. It's the page that is about you – the business owner, the person behind the business. It's not about what you can do for your customers. How many times have you visited an 'About Me' page to find out about a particular business owner or team, to then be confronted with a page of 'we can help you with x, y and z'?
The About Page is where you tell your visitors your story
By sharing your passion for what you do, it helps your visitors to build a rapport with you and decide if you are the right match for them. By talking about your hobbies, interests, etc you've established some common ground. We all get on better with people who we can relate to, so give your visitors chance to find out about you.
Services Page
This is where you can discuss what you can offer your clients. Be specific – expand on the solutions to their problems you mentioned on the home page. Break it down into separate pages if needed. If you have a unique selling point (USP) make sure this is clearly evident – your visitors should know how your services compare to your competitors because that's why they came to your website, to compare and contrast and find the best fit for them.
Obviously, you need to know your target audience inside out to be able to effectively convince your web visitors that you are the right solution for their needs. It's worth taking the time here to do your market research and make sure you are telling your customers what they actually want to hear, not what you think they want to hear!
Contact Page
Ideally, your contact details should be on every page of your website because you want to make it as easy as possible for people to get in touch. The best place for this is the page header. However, a separate contact page is essential to list all the different ways people can contact you because not everyone wants to pick up a phone or send an email.
You'll need a contact form (make sure it works!), email, and phone number as the bare minimum. Address if you can be visited, social media links and any alternative phone numbers, if applicable. A landline number tends to give a better impression than a mobile, so investing in a virtual landline that can be redirected to your mobile is often a good idea.
Blog
Arguably, the blog is one of the most important elements of any website. As I've already mentioned, your website is your shop window on the Google High Street. Mr Google, the inspector (search engine bot) comes to visit your website fairly often when it's new, to check on what you're doing and let people know you're in business. He looks at your shop window to see if anything is new, makes a few notes and disappears again. It's these notes that determine where you end up on the search rankings.
If your website isn't regularly updated and that window display doesn't change, Mr Google is going to stop coming to visit. That means your website ranking is likely to slip next to your competitors who do keep their website up to date. And the best way to keep your website fresh? Yup, it's the blog.
The blog is critical for search engine optimisation and social media content
The blog is the part of your website where you can introduce content that doesn't fit anywhere else, can update your clients on your latest news and can talk about case studies, ongoing projects and upcoming opportunities. It's the ideal place for you to prove that you're good at what you do and an actual person behind the business.
Hopefully, you've got a good idea of what you should have on your website now and I've started you thinking about the changes you need to make. Every website should be unique and personal to your business, but if you use my guide as a starting point you'll be getting visitors through your door in no time.