Zoom vs. Teams For Webinars – Which Tech Should You Be Using For Your Small Business?
Webinars are a great way to increase leads and profits for your business but it can be difficult to get started, especially as a small business owner with a limited budget for technology or marketing spend.
In this blog, I want to discuss the two software applications, Zoom and Teams, that many of us have access to (or can purchase more cheaply than other webinar options), things to consider when choosing between them and some general pros and cons of the two platforms.
What is a webinar?
To get things started, it's worth refreshing our minds on what a webinar actually is. It's a live online video conference or presentation that is usually interactive and enables your audience to directly engage with you online in a real-time setting.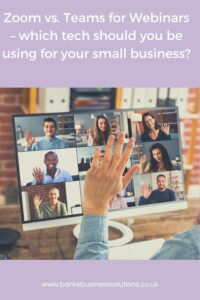 Sometimes, webinars are recorded and then accessed at a lower cost as a playback option. Or they were never intended to be a live session and entirely pre-recorded. There are different reasons why you might prefer live over recorded – a new product launch where your audience has questions is great for a live session but a tutorial session can easily be recorded and used as evergreen content, for example.
Whether you prefer to host webinars live or pre-record your session, using the right technology for you is important. So, let's take a look at what we need from webinar software.
What to look for with webinar apps
You want to be able to host your webinar without technical problems – that means your audience should be able to hear and see you clearly, you should be able to share your screen/programs and demonstrate things without causing lagging issues and it should be easy for your audience to interact with you during a live webinar.
In addition to these technical basics, features that are commonly included with webinar software are:
Whiteboarding
Messaging
Chat
Participant alerts (being able to virtually raise a hand)
Audience interaction tools
Email integration
Generally, the more advanced the features, such as email integration, the more expensive the software becomes.
So, let's take a look at the two lower-cost options – Zoom and Teams.
Is Zoom good for hosting webinars?
Zoom is free for up to 100 participants so it's a great way to dabble with webinars for your business. However, these calls are limited to just 40 minutes which isn't terribly long for an interactive live session, however, you can remove these restrictions by paying $14.99 a month.
In terms of webinar features, Zoom includes messaging, chat, whiteboarding, raising hands for participants and more and your participants don't need to sign up with Zoom to join your webinar. There are also Facebook Live and YouTube Live integrations – so you can effectively have a live webinar on all three platforms just using Zoom, which is a great way to attract more people!
The main negative with Zoom is that there aren't payment or email marketing integrations. So, you'd have to take care of collecting payments, arranging bookings and keeping your participants informed separately, although this can all be achieved through the use of a booking system.
Is Teams a good webinar alternative?
You can host webinars using Microsoft Teams and like Zoom it has a free option for up to 100 participants and a call duration of 60 minutes. It also comes with 5GB of cloud storage per user which makes it easier to access your documents during the webinar.
Teams certainly has a lot to offer with chat features, raising hands, calendar scheduling, inbuilt emailing features and the ability to record sessions and save them to a dedicated files area. However, participants do need a Microsoft Teams account and software to join the webinar which makes it less than ideal for using as a passive income opportunity.
I think Teams is great but it does what it says on the tin – it's for established teams to come together and meet. I think if you are using webinars to increase your business visibility in order to reach more leads and increase profits, then you need software that's more inclusive and easily accessible and for that Zoom fits the bill.
There are numerous other webinar platforms out there but I do think Zoom is a fantastic way to get started, learn how you want to conduct webinars and how to get your target audience involved and once you outgrow Zoom or need a feature it doesn't have, then is a good time to be researching the more expensive options.
Do you already host webinars? If so, I'd love to hear about your experiences and which platform you've decided on for your business.