The Client: Zita Lewis – Helping You, Helping Your Business is a virtual assistant based in Oxfordshire.
Service provided
Zita contacted me in July about a possible rebrand of her website. She wanted to move the whole site over to the Divi WordPress theme, modernise it, and update her branding.
She had already had a new logo created and needed the rest of the site to fit the new look and feel.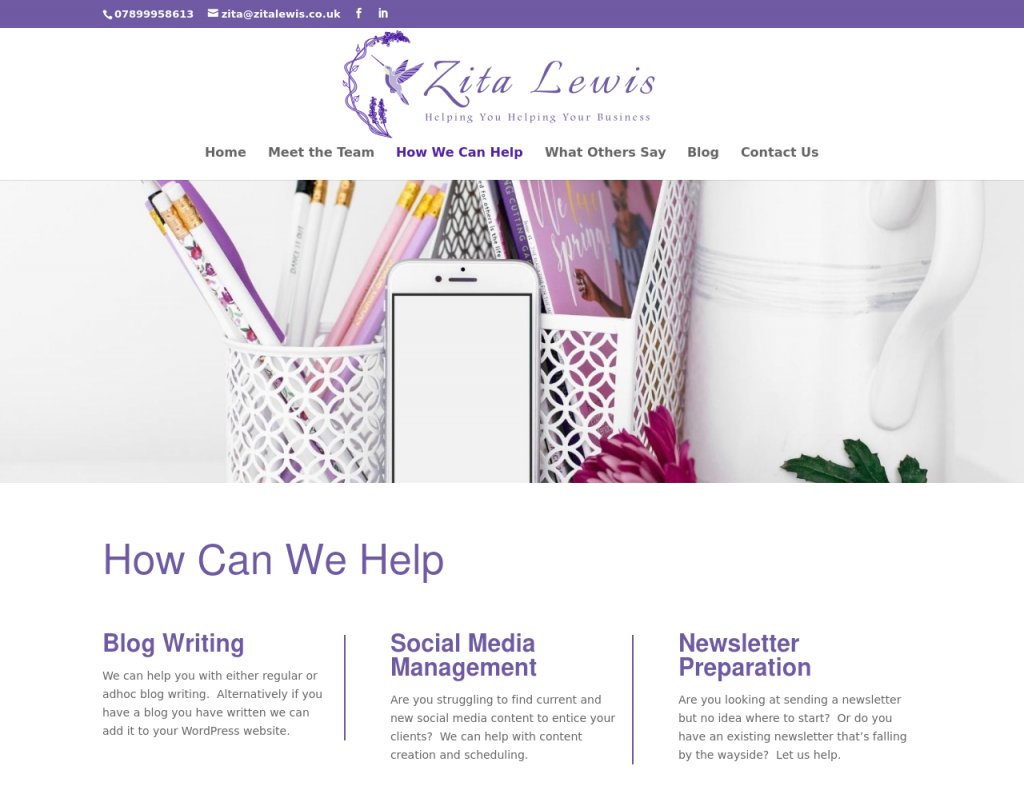 Website redesigns vary in the amount of work required, however, if you are keeping all of the copy of your site it is more a case of updating the theme and then tweaking the layout, adding images, and ensuring everything works as it should. Sometimes you need to completely restructure a page as I did for Zita with her 'How We Can Help' page so that it was easier for people to see the services she has to offer.
In addition to the redesign, I also set up basic SEO for Zita – including meta titles and descriptions for all pages and blogs, and setting up ALT tags for all images – these are really important as they determine how your site appears in search engine results and the ALT tags are a legal requirement to meet disability laws and are often forgotten when you are adding/updating your site.
The whole project took approximately 4 weeks from start to finish and included a full handover with videos so that Zita is able to amend the site and the theme settings herself.
Zita said: "Sarah has revamped my tired looking website. She has carried out SEO, moved me to a Divi theme and given it a new lease of life"
Client benefits
Zita now has a fresher website, that provides a better customer experience and will rank higher for SEO.
This allows her to showcase her services better to her potential clients and feel comfortable with sharing links to the site and her blogs on social media.

"Sarah has taken the pain out of transferring my free website to a paid theme. I have been putting it off for months but due to a holiday cancellation, I decided to invest the money in getting someone to do the task for me. This saved me a lot of time and stress!"