What Success Looks Like for Me
Success is a very personal thing and no two people will picture it exactly the same. Society's idea of success may mean wealth, power and material possessions and although we all know that's an idyll few of us can achieve for many reasons (personal circumstances, gender, disability. neurodivergence, caring responsibilities, etc); we still use it as a measure to compare ourselves against.
I think it's time we stopped comparing ourselves to others, to the 'picture perfect' life we're encouraged to aspire to from a young age and stand firm about what we want for ourselves. So, in this blog, I want to share what success looks like for me.
My inspiration comes from my girls
If you've been following my blog for a while, you'll know that I started Banks' Business Solutions because I didn't want to work full-time to the detriment of my family. I decided to turn freelance to get a better work-life balance and I was much happier as a result!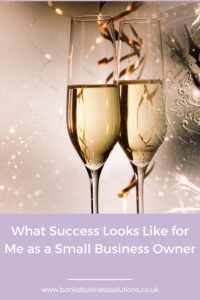 Every decision I make in my business is driven by the impact it will have on my family because I want to be able to give my daughters a life of opportunity but for them to also know that their mum is around for them.
That said I also want them to grow up with a positive female role model that can show them that being a mum and building a successful career/business is possible and you don't need to choose between the two.
Being successful for me is about being able to fund the lifestyle we want
Success, for me, is about being able to take my daughters to school and after-school clubs without work commitments getting in the way. It's about being able to have dinner together as a family every evening rather than having to face a commute home that means I don't get in until the girl's bedtime.
A big one for my family is being able to travel together. I'm something of a 'digital nomad' and being able to build my business into something I can do on the road while travelling without it affecting my family or my clients, is a huge source of pride for me.
Yes, money is important but flexibility is more important to me. It's this principle that I'm keen to share with others and let them know that they too can define what success means to them and be successful.