The Client: Oakwood Yoga is run by Phillipa Wilson and offers yoga classes, masterclasses and retreats across Derby.   
Service provided 
I first met Phillipa in 2010 when she started yoga classes in my village, as her classes grew she needed a new website and this coincided with me starting my business so she asked me if I would help.  
The previous Oakwood Yoga website was hardcoded in HTML, so I supported Phillipa to get the domain pointed to her new hosting, installed WordPress and built her new site from the ground up, taking content from the old site to populate the pages.   
We decided to use Catch theme for this site as it was a simple, low-cost theme that gave us the layout for the website that we wanted.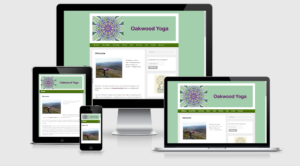 Following the successful launch of the site, I continued to support Phillipa with website updates.  
The website wasn't the end of the story for our support to Oakwood Yoga, we now provide email management whilst the client is on holiday, format and send monthly newsletters as well as supporting as consultants to guide Phillipa through changes in legislation (such as GDPR) and other administrative matters she needs support with.  
The additional consultancy work has been particularly beneficial to Phillipa 
"Guiding us through new legislation we need to be aware of and knowing that your network is there to further support me as a client is really helpful"   
Client benefits  
Phillipa now has a website that she is able to update herself which has allowed her to use her website as more than just an advertising tool; it now also houses a host of resources for her clients.   
Other benefits of working with us are:  
Providing information about new legislation and being guided through how it affects the client's business

 

Knowing that we have a wider network around us that can help clients should they need it
We asked Phillipa how working with us has benefitted her and this is what she said:  
"I feel so lucky to have Sarah in my life!  She has been an absolute guardian angel for my website and newsletters and just in keeping me on track with various niggly admin matters.  Sometimes I get overwhelmed with things but can pass onto Sarah knowing they will get done, properly and efficiently so I can carry on doing what I love…teaching yoga.  She is so knowledgeable and willing to find out things for you to make life a little easier.  
Because I have been able to hand things over, I don't have to worry about techy things anymore as I know Sarah is watching my back.  When I go on holiday it is wonderful to know that Sarah is looking after my emails so any new customers are being cared for.  Just takes the worry out of my day."