5 Lesser Used Social Media Platforms for Business (and why you should consider them)
Some things seem to come in "5's", there's the Big 5 utility companies and there are the 5 most popular social media platforms too – Facebook, Twitter, LinkedIn, Instagram, and Pinterest. But what about the less popular social media channels, are you missing out by not using them?
Using social media for your business can be overwhelming. There are so many social media platforms out there that it's impossible to use all of them successfully. The best advice is to always opt for the ones your target audience use and that works with your brand positioning and messaging.
That being said, if your audience isn't using the "Big 5" (which may well be the case if you're targeting millennials or Gen Z), you may have to consider using some of the video-based or newer social media platforms out there.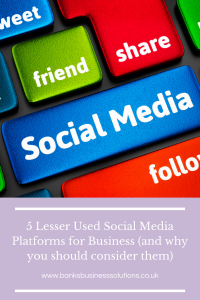 So, in this blog I want to talk about the other 5 social media channels that you've probably heard of, might even have some teens that use them, and are wondering if they could be worth using for your business.
Tik Tok
As one of the newer social media platforms, it's growing rapidly with 800 million active users worldwide, of which the majority are aged 29 or younger. Tik Tok is a video-based platform where users share and comment on videos that are 60 seconds or less.
You may have become aware of Tik Tok recently as creating the resurgence of Sea Shanties thanks to the Wellerman video!
Tik Tok can work surprisingly well for business because that 60 seconds forces you to be concise, straight to the point, and use creativity to get your message across (much the same way that Twitter worked so well in the beginning when we were limited to 120 characters). It's an ideal way to get into video marketing if you're nervous about the camera too as they're short and sweet videos you make with your smartphone.
I think there's an element of FOMO (fear of missing out) with Tik Tok too. A lot of influencers are on the channel and so it's like the video form of Instagram in a way, so even if you choose not to use it for your business marketing, you can still get what you do in front of your audience by using influencer marketing.
The downsides of Tik Tok for small businesses? Primarily, if your audience isn't on there then it's not going to work for you, and what you do needs to lend itself well to video. Fortunately, there's wide scope here as "how-to guides" and the like work extremely well on Tik Tok, which most business types can do. It is somewhat personality-based however so if you're more of an introvert it may not be the best choice as you will have to get in front of the camera!
Clubhouse
If we're going to talk about FOMO then we definitely have to mention Clubhouse! The newest social media platform and because it's only available on Apple devices has created so much envy and FOMO for android users that it seemed to drive a ton of people over to the platform that may not have considered looking at it before. In fact, Clubhouse grew from 600,000 users in December to 10 billion weekly active users in February!
Clubhouse is an audio-only platform – so they've taken podcasts and made them interactive, in a nutshell. People can host discussions and hold audio-only lectures while taking live questions from their audience. However, where the FOMO really comes into the play is that the audio is live and not recorded. If you're not there and listening to it at the time, you don't get to hear it at a later time.
So, how can this work for your business? If you have a Facebook group or a large emailing list, this can work well as a way to encourage your audience to directly connect with you in real-time for market research purposes, share ideas, address concerns and help with minor issues to share your expertise.
For this to work, you need to know your audience well. When do they engage with your content, what are the best times for them to hop into an audio call, etc.? Use this information to pick the best times for your Clubhouse chats to get as many attendees as possible. You can then talk about what people missed in your group and emails to encourage them in the next Clubhouse chat, and the attendees that comment on what was discussed add to the buzz and fear of missing out feeling.
Again, I think you need to be reasonably extroverted in character for this to work well for you. If you enjoy networking and talking with large groups, you'll probably feel at home here. Consistency is also important to ensure the FOMO effect works well for you, if you only host a chat once a month then your audience isn't going to be so worried about what they've potentially missed out on.
I do think it can work well for service-based businesses though as it doesn't rely on visuals but the information you have and can share, so it is worth a look if you have a B2B audience as this seems to be the majority of users (stats are somewhat limited on who uses it for now).
Snapchat
A social media app that seems to be loved by kids and hated by parents, can Snapchat really work well for small business marketing?
Certainly, a millennial-focused social media platform, if this is where your target audience hangs out then it's going to be yes but I'd add the caveat of "and you're a product-based business". Snaps, which can be video or images, last for 24 hours so there's less of a FOMO angle here, but you can have private chats with followers which makes it a great way to engage with your audience.
Around 218 million Snapchat users are active every day, looking at newly posted snaps to decide what to look at – which means your snap has to stand out to be viewed (unless you have a strong following that will view anything you post!)
I think Snapchat can work really well in tandem with other forms of social media marketing. Sending followers to your Snap for a discount code is a good example but I feel it's limited if you only want to focus on one channel. Brands aren't generally sought for on Snapchat unless you pay for ads and it's harder to see what your friends are interacting with, so without a driver to send your audience to your snaps they will struggle to gain traction.
Medium
Perhaps better known as a content site rather than social media, Medium does have a social element to it and can be used for social media marketing purposes. Much like you might share a post on Facebook and discuss it through comments, on Medium you can post an article or blog and discuss it in the comments in the same way.
It's actually a good idea to share your blog posts on Medium a few weeks after uploading to your website to gain new readers and followers, it's a process called "content syndication" and worth looking into.
Medium has around 100 million active readers each month for a range of topics, so you can be sure that whatever you want to share your expertise on, there is an audience for it on Medium. Build a rapport with the audience and they will be eager to read your new content as you post it, and you'll be able to entice them through to your website where the sales conversion process can begin.
Are there any negatives to using Medium? It's not a promotional and sales-based channel but about content and sharing information, so really needs to work in tandem with both your overall content marketing and social media marketing strategies. I definitely think it's one you should look into for both sharing content but also finding new content you can read, learn from and share with others too.
Quora
This platform is all about questions and answers and is a fantastic way to share your expertise with people that need a problem to be solved. From answering WordPress questions to helping out with recipes; there isn't a topic that isn't covered somewhere on Quora. With over 300 million active users each month, Quora is actually a huge platform that can really boost your marketing efforts.
So how does it work for social media marketing?
Well, just like with Medium, people can comment on your questions/answers, they can also "upvote" your answers if they find them useful. If you get enough upvotes and people share your answers, you can climb the ranks to influencer position relatively quickly. People will then respect your expertise, the information you're sharing, and more likely to visit your website too.
Quora is regularly used within the SEO industry to understand what target audiences are looking for information on (keywords), and to provide them with answers that then direct to websites with additional information/support. So, using Quora can tackle quite a few areas of your marketing at once.
A couple of downsides to Quora is that you need to pick the right questions to answer, and there can be a lot of nonsense questions asked. It can also be fairly time-consuming to write a good response that includes images (for attention) and links to your own website content for additional information/support, but it is worthwhile to do it at least once a week to raise your business profile and credibility.
There we have it, 5 social media platforms you probably hadn't considered using for your business marketing before, and hopefully, some reasons on why they're a good idea to look at for you. Let me know if you agree or not, or if you use these websites already and have found good results with them!