Why I leave my business planning until January
Annual business planning is an important part of your growth and marketing strategy. It's something that you'll find an abundance of "how you should create your business plan" for online, but general consensus seems to be that December is the time to do it.
It's almost like "planning" has become a buzzword at the end of the year, every year and I don't know about you, but it makes me want to switch off and consign it to the bottom of my to-do list! Being bombarded with a plethora of planners on sale from October and every business guru out there talking about planning in December doesn't make sense to me.
Why?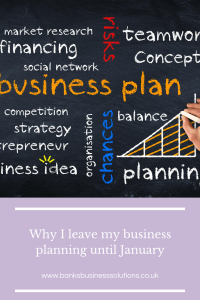 December is a hectic time of year!
It seems bizarre to me that during the busy run-up to Christmas that you should fit in even more work on your business by perfecting your plans for the next year.
I'd much rather be enjoying my children's Christmas concerts and sharing some valuable time with my family than trying to squeeze in as much work as possible before the New Year.
It seems counter-productive.
Wouldn't you rather be winding down for Christmas, taking a well-earned break and looking at your business with a fresh perspective once the busy holiday season is over?
For me, business planning should start in January
I have my first quarter start in February and ending in April, with quarter 2 May to July, quarter 3 from August to October and the ending quarter for the year November to January.
It means I have the quieter time of January to sit down and focus on my business. What I've achieved during the last quarter and year, where I want to take things next and how I can make that happen.
It also means that I'm able to support my clients who do choose to plan during December while ensuring I've got the time to really enjoy the run-up to Christmas without the stresses and strains of needing to do work while my family want to share time together.
I also find that with quarter 3 starting in August, the school holidays, I can ensure that my key promotions are out of the way before this time so I can benefit from having my daughters at home and keeping that work-life balance right for me and my family.
When is the right time to start planning for your business?
While planning for my business in January makes sense for me, I know that it's likely to be different for everyone.
It's important that you think over your busiest and quietest times of the year and cater your planning approach to these periods. If you tend to have more work over the summer, would it be better to start your planning at the end of that period where you have time to reflect, evaluate and get those key promotions in place for the next season?
I think the question here is, are you doing your planning in December because it's right for you or because you think you should be following what everyone else is doing?
It can be difficult to break away and do your planning your way, but it's your business we're talking about here. What works for everyone else isn't always going to work for you, and sometimes it's taking that leap of faith and standing out that propels your business forward to where you want it to be.