Let's Talk About Email Marketing Software in 2022
I first wrote a blog post about email marketing seven years ago (wow, the time has really flown!). That blog was an introduction to Mailchimp, which is still a great email marketing app, but things have changed quite a lot since then.
In this blog, I want to discuss where we are with email marketing software in 2022 and help guide you toward the best app for your small business.
Does email marketing still work in 2022?
That's an important question and I certainly think trends have changed. GDPR meant a lot of companies had to re-opt subscribers to their email lists, we as individuals were suddenly bombarded by hundreds of companies asking if they can keep our details on record…and not surprisingly, many of us said no.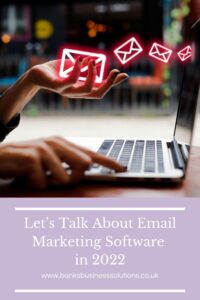 We've also grown used to seeing emails as "spam" – Google didn't really help things here by having a "promotions" section in their email inbox, meaning most users don't even look there anymore. Now that it's so much easier for us to interact with the brands and businesses we want on social media, email marketing has perhaps fallen out of favour as a marketing trend.
However, email marketing isn't dead yet. According to HubSpot, 78% of marketers have seen an increase in email engagement over the last twelve months, and 74% of the "Baby Boomer" generation prefer email to communicate with brands.
I think email marketing is here to stay, but we need to be sure of our audience so that we can create emails that resonate with them, be savvier about personalising emails using our customer data to ensure it's seen as relevant to them and not just a generic sales pitch while keeping on top of GDPR and data protection regulations
So, what are the best email marketing apps to help us do that as small business owners?
MailChimp
If you've followed my blog for a while, you'll know that Mailchimp is one of my favourite email marketing providers – I've even created a free guide you can download to help you get started with using Mailchimp.
So, why is Mailchimp so good?
Mailchimp is one of the most popular email marketing apps out there, with 14,000 sign-ups a day. Primarily, their popularity is because they offer a generous free plan of up to 2000 subscribers and 10,000 emails to be sent per month.
Mailchimp offers:
excellent reporting on how well emails have performed which can be integrated with Google Analytics;
A/B testing so you can see which emails work best for you in terms of the subject line, content, images, and design;
and they have recently introduced extra features such as their own appointment scheduling software and an online store builder for those "click to buy now" emails.
There are a couple of negatives to using Mailchimp that are worth considering.
Affiliate marketing isn't allowed. If you want to send out emails with an affiliate link to a third party, you won't be able to do this with Mailchimp.
Support options are limited. There's no live chat or email support available on the free plan. They do have a range of support articles you can read or Google your question to find a range of third-party content to help you, but if you want direct assistance then Mailchimp only offers this when you are a paying customer.
No scheduling option on the free plan. If you struggle to keep on top of your to-do list and need automatic scheduling for those emails to get sent, you may need to hire a VA to do this for you.
Mailchimp has recently merged with Intuit which may well bring new changes to how Mailchimp works and what it has to offer over the months ahead, do have a read of this blog for my opinion on that.
MailerLite
Often when people ask for Mailchimp alternatives, MailerLite is highly recommended. That's because its drag and drop email builder is seen as more intuitive and user friendly than Mailchimp and it has much simpler list management too.
Both email marketing apps are very similar but for me, the features of MailerLite that help it stand out are:
Free automated sending of emails
Free email support
More email template choices on the free plan (only 8 available on Mailchimp but 25 here)
Better options for tagging
As with Mailchimp, there are some negatives to using MailerLite.
MailerLite is only free for 1000 subscribers – this is half of what Mailchimp offers but they do allow slightly more emails to be sent each month with 12000.
Ads can't be created within the platform – Mailchimp allows you to create Google Adwords and Facebook/Instagram ads within their platform but when using MailerLite you'd need to set them up on the native platforms first.
Customer support can be slow – with email-only support it may take a few hours or even a day or two to get a response to your query if there's high demand.
Mailerlite seems a better option for new users
Mailerlite is a great app for new users and I now recommend this to those who are starting out with email marketing. However, if you have a MailChimp account and have been using it for sometime, you will find that you have some features that are not available to new users and therefore it is a better options for you.
If you are new to email marketing then give both a try in terms of setting up a new list, designing an email and sending out a test to see which you prefer but bear in mind that if you want to do affiliate marketing through your emails you will need to use MailerLite to prevent any issues down the line.
What are your thoughts about email marketing? Do you still do it in 2022? I'd love to hear about your experiences and favourite email software.