The 7 Best Task Management Systems To Use In 2020
Do you find it difficult keeping on top of your to-do list?
Keeping track of the many tasks you need to perform for your business can be a bit of a nightmare at times. You might have various notebooks dotted all over the place, some notes on your phone and a spreadsheet or two on your computer but when was the last time you synced everything up and knew exactly what you needed to do, and when those all-important deadlines are?
Task Management Systems are apps that help you keep on top of those tasks in an "at a glance" online system. Many of these apps have cloud and android/apple versions so you can add tasks when you're out and about (or if you suddenly think of something while watching Netflix!)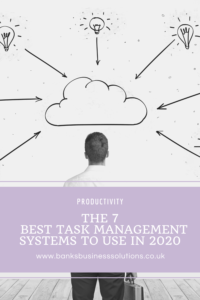 The best task management system for you will be down to personal preference
It's worth giving them all a spin and seeing which one you get along best with. I've summarised the positives and differences with each system to help you narrow your choice and perhaps give you a glimpse of some of the lesser-known features you might otherwise miss out on.
1.      Asana
Asana is one of the well-known task management apps out there, and one that is recommended if you prefer a visual display of your tasks rather than a written list.
Asana is a free project management app (up to 15 users, unlimited tasks) making it ideal for most small business owners who occasionally outsource and collaborate on projects. Asana allows you to identify a project and break it down into sections and sub-lists, like building a website, for example. I can separate the different sections I need to take care of the website (design, pages, plugins, theme, etc) and then under each section add the relevant tasks.
Colour coding and different views (calendar, list, by project) etc enables you to customise Asana to suit your preferences. I find it ideal for keeping track of multiple clients, each with various different requirements.
2.      Basecamp
Basecamp (the personal plan is free), is a task management platform designed with collaboration in mind and is ideal if you collaborate often with other freelancers and business owners. The free plan allows you to have 3 projects on the go at once with 20 users and 1GB of storage (so no more having to set up DropBox or Google Drive folders).
The feature with Basecamp that helps set it apart from other task management systems is the real-time communication capabilities. You can talk directly with your other collaborators through the app, perfect for discussing a new document and commenting on tweaks or changes that might be needed.
Another benefit of Basecamp is that you can add your client to your project but choose what to share with them. So you can keep track of every aspect of the project, but only share the relevant aspects with your client when you're ready to.
3.      Easynote
Easynote is a 100% free task management app that believes in keeping things simple. With file-sharing capabilities that enables you to keep track of group projects, Easynote also allows you to keep track of the time you've spent on a project and produce reports. Ideal if you happen to bill by the hour with your clients.
Easynote also has integrations with many other apps to make it even easier to keep on top of your workload and become more productive. Apps like Dropbox, Outlook, HubSpot and Slack makes this task management system just as powerful as some of the other contenders on this list, and without having to pay for those added features!
There is a business package that costs $5 a month or extended for $10, both carry a few more features such as greater storage capabilities, daily backups and video conferencing but for most small business owners, the free version is more than enough.
4.      Google Tasks
When you just want something simple to keep your tasks in one place, Google Tasks is probably what you're looking for.
Although you'll miss out on the additional features, these task management systems can bring, Google Tasks is already integrated with Gmail and Google calendar, so if you spend a lot of time in these apps it makes sense to use a task list connected with the two.
5.      HeySpace
HeySpace is another task management system that prioritises communication with others, so it might not be the best choice if you often work alone. However, the agile-based visual task board is an easy way to see your tasks at a glance and filter them by due date, priority, etc.
There are some handy add-ons with the app like calendar and Gmail integration, export to CSV, and even integration with another task management system, Trello.
HeySpace is worth a try if you do collaborate with others often or want to try a more visually based approach to make your task management easier.
6.      Todoist
Todoist is one of the more popular task management systems and ideal for sole traders wanting to be more productive without many of the bells and whistles that some of these other apps provide.
Todoist claims to help you free your mental space by getting tasks out of your head and onto a task management system, and it certainly does that. With the ability to add recurring due dates for regular tasks, quick add from your phone and colour coding to keep on top of tasks per client, or type.
One of the more unusual features of Todoist is that every task completed gives you a karma score designed to help you see how you're becoming more productive using this task management system and encourage you to keep going. This is ideal if you sometimes struggle to find the motivation to work from home or alone and need a little nudge to keep you moving in the right direction.
7.      Trello
Probably the most well-known task management app on my list, Trello takes a highly visual-based approach to task management. Trello works by identifying projects and adding cards with the tasks you need to complete, helpful information and relevant deadlines.
Trello boasts workflow automation as a key feature, with an inbuilt "butler" that helps you set triggers for certain tasks upon completion of others and set the calendar and due date demands. While this feature is helpful, it can take a while to set up and get used to which might put you off using Trello to its full potential.
Trello is highly customisable, making it easy to change the background to a photo of your choosing (including uploads) which can make it a little more fun to use than some of the other, more traditional task management systems.
I hope that this blog has given you an insight into some of the different task management systems that are out there, their differences and hopefully guided you towards a few that you'll try out for yourself.