The Client: Auxilium Admin is run by Alex Hughes and offers a virtual business manager service.
Service provided
In the summer of 2019, Alex had various problems with the hosting of her website with her then-current provider and sadly it appeared it had been hacked. I very quickly went to her rescue to review what was going on.
Over several weeks we liaised with her hosting company to make the site safe, install security and run updates to get her back up and running.
Following this work, Alex approached me about developing a new website for her. She wanted a cleaner, simpler design which would give her functionality that was currently missing and provide a better experience for users.
This project was delivered in early 2020 and was a collaboration between Banks' Business Solutions for the design, and our partner Zoe from Zebra Business Solutions who supported Alex with the copy.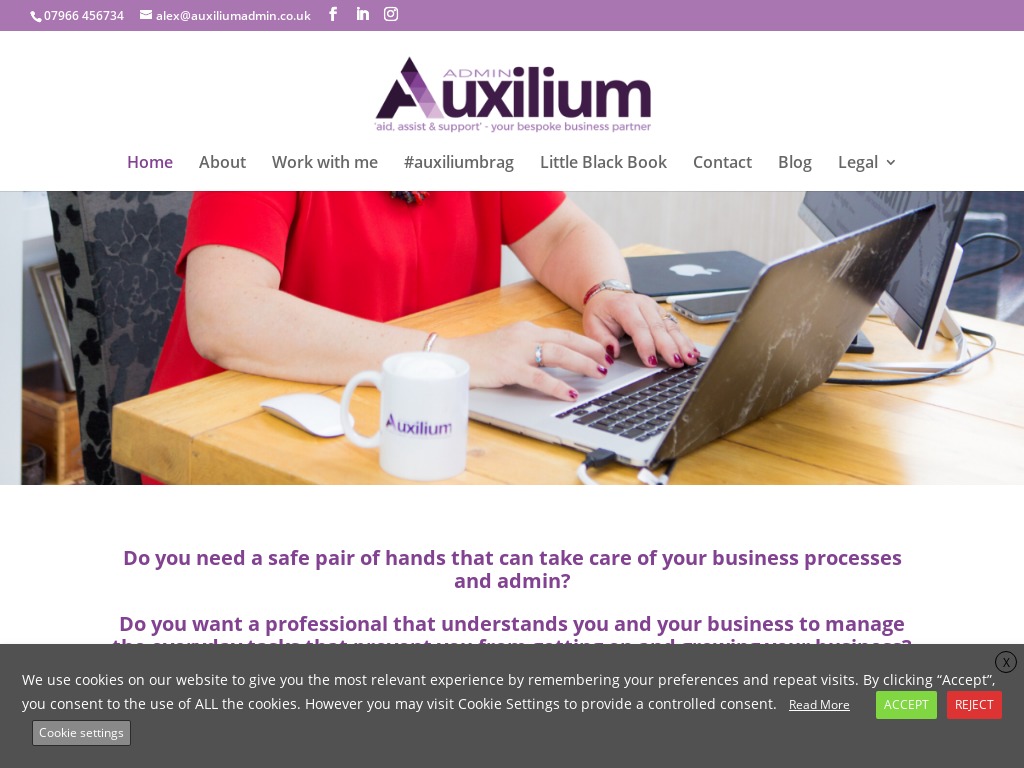 Alex said:
"Despite Sarah's heavy workload and the COVID-19 outbreak, she was able to deliver the website that I had visualised, with a new host and functionality that leads a reader from one page to another with the resulting call to action. There is other functionality and maintenance that will be ongoing between us, but the website is now live and free of any coding bugs and with new functionality and look and feel."
Client benefits
We all think we can build a website and yes, we can build basic ones, but when you need it to be secure and showing off your brand in a particular way, functioning with plug-ins and SEO, then outsourcing this to a website specialist is a MUST!

When asked to provide feedback on how we have supported her business, Alex said:
"It was an absolute delight working with Sarah to build my new website for Auxilium Admin. After the initial stress of the old site being hacked, Sarah swiftly reassured me that she could secure the site, which she did, and she then quickly set about building a new site for me.
We worked well together on every aspect of the build and Sarah delivered to her plan and more.
I highly recommend Sarah and all the services she provides and as a fellow VA, I know how professional, passionate and caring she is about any work she completes. Not only is she a 'wizard' at WordPress and many other automation software, she is a real 'gem"