WordPress Troubleshooting Service
Do you have a WordPress website issue that you just can't get to the bottom of?
Then you might want to consider our WordPress Troubleshooting Service.
We offer an hour-long (30-minute investigation, 30-minute resolution call) service to help you get your website back up and running or resolve specific issues you might have with it. 
Here is how it works: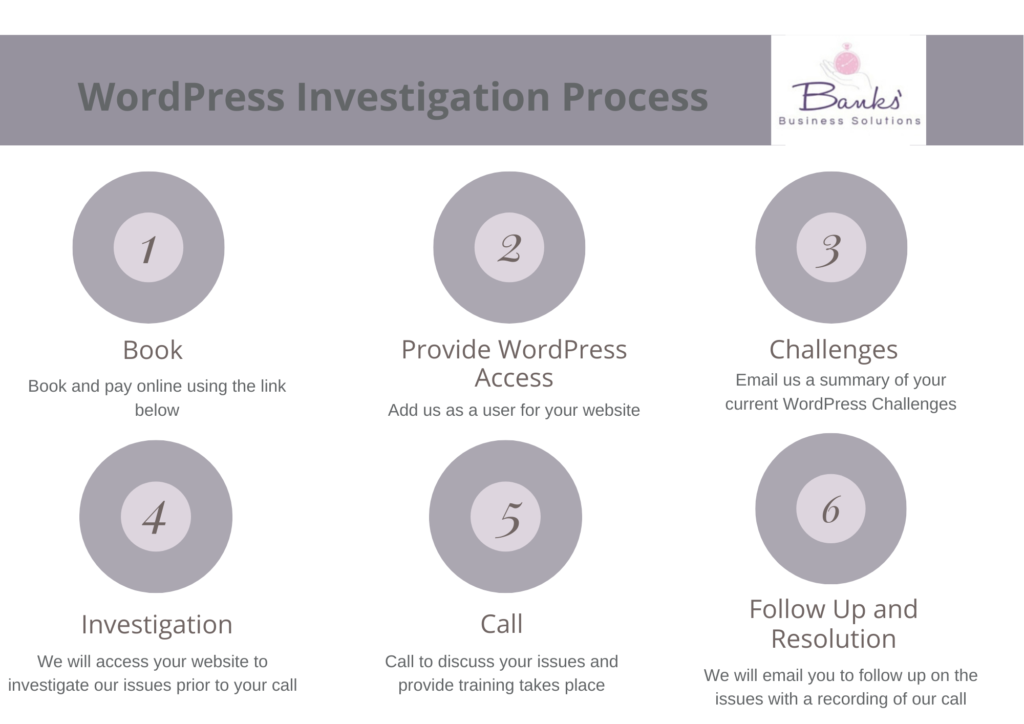 Not sure how we can help?
Here are some examples of the types of support we can provide:
How to change fonts, colours and branding on your site
How to add blogs to your site
How to update pages
Adding media to your site and ensuring that your images display correctly
How to prevent spam comments on your site
How to maintain your website
No job is too big or too small for our WordPress Investigation Service.
Not sure how to add a user to your website – then take at our short video on YouTube which will take you through the steps to do this: Adding a user to WordPress.
"If you are having problems with your WordPress Sarah's the woman for you. She quickly helped to resolve the problems I was having updating images on my website. She gave me options on how the page could look.
She also gave me instructions on how to update my images myself in the future. Sarah was clear, professional, and friendly. I would really recommend her.."
Book your call today for just £75.00 and let's iron out those WordPress issues
Book your appointment below and we can start to get you back on track.